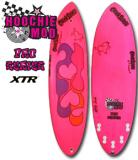 Most people have formed a negative opinion about Epoxy Surfboards.  Heres how Chick Sticks and XTR are changing the stigma.  Check out the Chick Sticks brand of poly, EPS and XTR Epoxy Surfboards for Girls at
www.chicksticksbylola.com
HOW CAN A CHICK STICKS PRO SERIES XTR SURFBOARD IMPROVE MY SURFING?
The main reason these surfboards can help you surf better is the responsiveness; the XTR foam is more alive due to the physical properties of the foam. You will go faster and speed is the key of performance.  All XTR boards are lighter than most boards this translates in extra flotation that will help catch more waves.  Extra flotation can also translate into a thinner board, and if you can catch more waves and have a thinner board it means you will have a lot more control, due to a lower center of gravity.
Magic boards are usually magic for a short period of time until they gain water and change the flex and flotation, XTR boards will not change because the foam doesn't absorb water.  You are surfing a waterproof blank.
CHICK STICKS PRO SERIES XTR SURFBOARDS REQUIRE CARE TO PREVENT OVERHEATING
CAN I LEAVE MY XTR SURFBOARD ON THE CAR AND WHAT BOARD BAG CAN I USE?
Yes, if you have a white or reflective board bag, Even if you travel to really warm destinations around the world, it is very safe when you have a white board bag. We don't recommend the use of a sock, they just generate heat in small pockets.  The temperature limit that you have to be aware of is 145'F. This temperature is impossible to reach with a white board bag.
Avoid board bags that are white and also have a big black patch on the nose or a big black pocket on the side.
The biggest misconception about epoxy XTR boards is the sun; some people think the sun will damage the board. It all depends on where you are. If you leave your surfboard in the sun in California a hot day at the beach will only reach 100-'F, without a white board bag, and you are safe. If you are in any tropical place, your board may get near 120-140'F. Without a white board bag you may reach the temperature limit. With a white board bag you will be completely safe.
The source of heat is sun. The problem with heat is over 140'F and this depends on where you leave your board. If you leave your surfboard inside the car with a white bag it's ok, even better if you open the zipper for added ventilation.  The most common mistake we see is when people try to protect the board from the sun and they use a dark board bag or a dark towel, the sun light doesn't go through, but the heat does.
"THERMOVENTS" ~ WHAT IS "THERMOVENT" TECHNOLOGY?
All Surfboards glassed at Epoxy Pro come with "Thermovents", a patented solution that eliminates the bubbles due to heat. "Thermovents" are small vents that penetrate the fiberglass to the surface of the foam allowing gas to escape when hot (all XTR blanks have gas inside each small cell, it makes the surfboard more responsive and resistant to aging). Water cannot penetrate the foam because XTR is closed cell foam, only a small amount of moisture will get inside the vents but that will not alter the weight or strength of your surfboard.
WHY DO CHICK STICKS PRO SERIES XTR SURFBOARDS NEED "THERMOVENTS" ?
Epoxy Pro has been making surfboards with Extruded Polystyrene Foam since 1991. All the surfboards made with these materials by Epoxy Pro or any company will in the long run bubble or blister under your front feet or rail due to the gas inside the foam.
CAN I APPLY WAX OR INSTALL TRACTION PADS ON TOP OF THE VENTS?
Yes. Thermovents only work when hot (over 90'F). At this temperature the wax will melt and will allow the release of gas. Under the traction pads, the glue will soften and the powerful gas will find its way out under the traction pad.