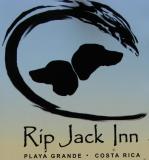 Pura Vida!
Costa Rica means "Rich Coast" and once you see Playa Grande ("Big Beach") you will know why. The beach is three miles long and nearly untouched because we are a National Park created to protect the endangered Leatherback Turtles. Nature's playground is only steps away from our hotel where you can take your pick of waves. Take a stroll north and you'll discover the ultra-secluded Playa Ventana and the black sand beach of Playa Carbon.
Across the estuary lies Playa Tamarindo, a tourist Mecca where you will find a multitude of restaurants, shops, bars, discos and of course more surf. So, at the RipJack Inn, you have access to the "city" and the serenity and seclusion of Playa Grande.
The hotel features Upstairs @ the RipJack that boasts a panoramic ocean view and some of the finest cuisine in all of Costa Rica. During your stay, take advantage of our onsite yoga, massage and surf lessons. We will also help you arrange a multitude of activities including sailing, golfing, diving, scuba and much much more. We also strongly recommend a lot of time set aside for some good old-fashioned relaxation - Costa Rican style at the RipJack Inn!