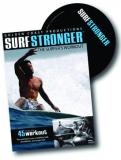 An exercise video that goes through warm-up, main workout and cool down exercises of a program designed by surfers, for surfers, to give increased mobility and strength in the water.
Style – 3.5 stars – The production of this video is not what you typically see in workout infomercials, but that's also what gives the video it's charm and appeal. Having a high-quality, studio version of this video would not make me feel comfortable.
Personalities – 3.5 Stars - The instructor, Scott Adams, is professional and confident in the video and comes across as a great coach.
Exercise Content – 4.5 Stars – If you think using a stability ball and yoga mat are lame, you're definitely too much of a wimp for this stuff. It's no joke and can get any surfer on a solid path toward peak performance
Overall – 4 stars – I like the content of the exercise program and seems very useful to boost surfing performance. Although the quality of the production is not the highest, it does provide a more comfortable vibe as to not scare off those of us not used to work-out videos. If you do the program, be prepared to sweat and be sore.