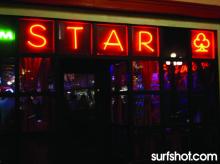 Friday night rolls around and you're itching to put back a few, but A) you don't feel like wearing a collared shirt, B) you don't have a lot of money to spend, and C) you don't want to hang out at the same old bar in _______(fill in the blank) Beach. Well my friend, gather a couple drinking buddies and head Downtown to Star Bar at 423 E. St. (between 4th and 5th Ave).
"Downtown?!" you ask in disbelief. For those of you who haven't visited this time-warp of a dive bar, it is the king of all dives in San Diego. This small bar right around the corner from Horton Plaza is a place like nowhere else. When you walk in, it's almost overwhelming; the walls are covered with a collage of faded photos and artifacts, the backstock cases of beer and liquor are stacked by the pool table, the red vinyl stools are all worn, Christmas lights are strung across the ceiling, and tinsel is hanging everywhere. Yeah, tinsel… everywhere.
I was lucky enough to run into the owner and get a little background on the place. Star Bar was opened in 1972 by the late Lloyd Thompson and has been in the family ever since. The bar is named for his daughter Star, who is the current owner. Mr. Thompson was born on Christmas Day, which is the reason why the bar adorns year-round decorations.
Star Bar is staffed by a few petite Vietnamese girls who pour with a heavy hand. The guy sitting to your right might be over 60 and missing a couple of teeth, but I guarantee he's got some great stories. The girl sitting to your left might look like a laid-back, young hippie – but she's a pool shark, so don't let her take your money. Every experience at the Star Bar is sure to be a unique and memorable one ("memorable" is used lightly here. In many cases, you might not remember most of your night at Star Bar).
And this is why: the best part about Star Bar is the prices. Drinks aren't inexpensive, they're down right cheap! Don't believe me? Just walk in there and look at the prices written in sharpie on all the bottle labels… $3.75 for a Crown Royal? It's highway robbery and you'll be the one making out like a bandit. But as far as the Visa card goes, leave home without it, because Star Bar is cash only. Cheers!