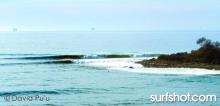 PARK: Sinkyone Wilderness/ King Range National Conservation Area (a.k.a "The Lost Coast")
LOCATION: North end - (Needle Rock): 36 miles southwest of Garberville/Redway on Briceland Road. Take Briceland Road west from Redway. Briceland Road becomes Mendocino County Road 435. South end - (Usal Beach): Approximately one hour north of Ft. Bragg on PCH or 15 miles west of Leggett on PCH from Highway 101. Look for mile marker 90.88 on PCH. Turn north for approximately six miles. From either direction a 4WD is strongly recommended for the last few miles.
SIZE: 7,367-acres.
NATURAL SETTING: The 60-plus mile coastline includes sandy and rocky beaches to the north and mountains plunging into the ocean to the south. Wildlife is abounding with bears and elk are a frequent site. Breathtaking views are unlimited as the mountain range slopes steeply to dramatic seascapes. The 4,088-foot King Peak is the highest point in the state north of the Lost Coast.
AMENITIES: Sinkyone's 11 miles of wilderness beach have 31 free hike-in campsites, perfect for an overnight stay. Usually hikers arrive in mid and late summer, when the weather is at its most stable. Most amenities come in the form of trails that are just good enough so that you won't get lost forever. Near where the surf is "popular" are some makeshift lean-to shelters. Other than that there is a reason they call it "wilderness".
WHAT TO EXPECT: Rugged takes on new meaning along this stretch of wilderness. Get a tide chart before you start hiking. Several sections of the coast are impassable at high tide. Watch for rattlesnakes in driftwood and in rocky areas. The Lost Coast is located within bear country and regulations require that visitors store all food and scented items properly at all times. Summers are generally mild. Fog is often encountered near the coastline, with sunny, warmer weather more common inland in the foothills. Summer temperatures range from 45-75 degrees. Winter temperatures range from 35-55 degrees and rainfall up to 80 inches per year, mostly occurring between November and May. This fabled stretch of coastline is home to some amazing surf breaks, the most popular of which are the most localized surf breaks in existence. Whether called "Ghost Point" or "Big Flat" or whatever secret name any "local" wants to call it, with over 60 miles of coastline, there are likely to be more than a few peaks and points worthy of the trek. FYI, autumn is high season for great white sharks.
WHAT MAKES IT GREAT: Without a doubt the most adventurous and naturally beautiful surf trip you can find within California if not the world. Ranked by the most prestigious outdoors magazines and hiking sources as the most spectacular, undeveloped, coastal areas on the planet.