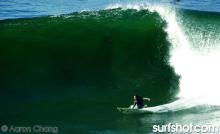 Name: Scott Overland
Home: Encinitas
You'll see me surfing at: Blacks, Seaside, Swamis, D-Street, Ponto, Oceanside
Occupation: Sales Rep for Dakine and Etnies
Travels: Hawaii, Fiji, Australia, New Zealand, Sumatra, Mexico, Costa Rica, Vancouver Island
Life successes: Blessed family life with my bride Tina and two daughters Josie (10) and Janie Mae (5). Amazing… work situation selling the gear that I love to use and re-arranging my schedule if the swell is going off!
Three-foot southern hemi, low tide...I'm off to: Ponto, (hopefully negative tide, 6 ft southern hemi!)
Big northwest… I'm grabbing my7'6" Byrne gun, and heading to Swamis.
Best surfer of all time: Kelly
The surfer having the most fun is the one... with the biggest smile/
What's for dinner tonight? Seared Ahi w/Brown Rice, Steamed veggies and salad
20 years ago: SDSU surf team, Abs, S. Mission Jetty. Del Marios Restaurant. Foo's Velzyland Hostel, 1 haole at a time. DMSC!
20 years from now: Retired and planning the next surf/snowboard mission. Looking for ways to give back in appreciation of getting so much.
Special thanks to: God, Tina, My parents for moving to Encinitas from San Bernardino! All the great shops that have supported the lines I represent.
Advice to the grommies: Seek out the good things in life. Respect and protect yourself. Straight Edge living is the best. Respect and protect the environment, join the Surfrider Foundation or Surf Aid.