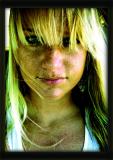 A look at Roxy designer Hillary Amborn's art, career, and the accident that helped get her where she is today
Although she grew up four hours from the nearest mountain, at age twelve Hillary Amborn became obsessed with snowboarding. It wasn't long before Hillary fell in love with surfing in her hometown, San Luis Obispo, and took to the chilly waters of Pismo and Shell Beach with the same amount of excitement and dedication she showed the snowy slopes. Soon a third passion surfaced in high school, and art became an equally important aspect of Hillary's life, one that she would go on to pursue in college. A few months before graduating from Cal Poly San Luis Obispo with a degree in Art and Design, all three of Hillary's passions were seamlessly united when she landed an internship with the world's most popular women's surf/snow apparel brand, Roxy, an opportunity that would make even the most sunburned, surfer girl green with envy.
But not all of Hillary's landings have been so smooth.
At the age of 19, with a clear shot at a national snowboarding title just upon the horizon, Hillary failed to land a tabletop jump during training, fell, and broke her back. After two reconstructive surgeries, her dreams of a career in professional snowboarding were killed by a minor misjudgment and the quick cut of a scalpel. But like any good artist, Hillary used her darkest moments to create her most brilliant art, and with torment as her tool, sculpted a determined vision of her life as a successful artist and designer that was destined to become a reality.
Now a senior designer with Roxy, 25-year-old Hillary holds down a job with a description that includes, among other things, traveling to exotic locations for art shows and events, hanging out with top pro surfers, and doodling the workday away. And having recently moved to Newport Beach—with the ocean at her front door and mountains at the back—Hillary is free to enjoy the sports she loves, her amazing job and the creativity that, above all else, keeps her happy.
While at a recent gallery opening in Brooklyn, New York, Hillary took a few moments to reflect on art, adversity, inspiration and the industry that has given her so much to be thankful for. Here's her story.
How did you get into art and graphic design?
I've been creative my whole life—growing up I was always making things and drawing—but it wasn't until high school that I took my first art class and did my first real painting. My high school art teacher was the one who got me thinking about doing graphic design; she had gone to Cal Poly San Luis Obispo for art and design and told me to look into it. By the time I graduated high school I knew I wanted to go that route, so I ended up going to Cal Poly. I was an Art and Design major there, so I did everything from photography and fine art to graphic design. Initially, I was trained to do a lot of work by hand, painting, drawing, that sort of thing, but the last two years of school focused in on graphic design and using the computer to create art on a different level. It was a great experience; I learned a ton there, really loved it, and met a lot of awesome people and other artists who were very talented.
But you didn't always want to be a designer…
Yeah, when I was younger I was obsessed with snowboarding. I dreamed of becoming a professional snowboarder, and even though I grew up four hours from the snow, I would go snowboarding as much as possible. When I was 19 I was ranked first in the Central California Series division of the USASA, the United States of America Snowboarding Association. While I was training for the National Championships, I overshot a tabletop and broke my back. I had to have two reconstructive surgeries and I've been in pain ever since. I still snowboard even after the accident, go off crazy jumps and all that, but it changed my whole perspective on everything. I really could have been paralyzed, and that scared me so much. When something like that happens it changes your life forever—it'll always be a part of me and affect the way I think. But it was during that time, when I was lying around on the couch in terrible pain after my surgeries, that I created my best, most meaningful art. The whole experience made me realize that I needed to focus more on my career as an artist and designer and not so much as a professional snowboarder. Letting that dream die was really hard for me though.
How did you become involved with Roxy?
Toward the end of college I had a friend who worked for Roxy. She helped me get me an internship with them, so I interned with the Art Director for three months and he really liked my work. After I graduated from Cal Poly in 2004, I went on a surf trip to Costa Rica, but while I was there I got an e-mail from the Roxy Creative Director offering me a position. They needed me to start right away, so I got on a plane and was working at Roxy two days later. I've been working there ever since. I started as a freelancer in Roxy's marketing department doing advertising, in-store displays, and print media. Then I moved onto designing graphics for t-shirts and clothes before I got hired as a fashion forecaster to do market research, styling, branding, things like that. I also do fine art paintings for some of the Roxy event posters—I've done poster art for the Roxy Chicken Jam, the Roxy Pro Hawaii and Roxy Pro Fiji—and I've designed graphics for things like limited edition wetsuits, shoeboxes, hangtags, fabric patterns, clothing labels and accessories. Quiksilver has been really great about letting me grow as a person, as a designer and artist, allowing me to travel and learn and work all at the same time. It's been more than I could ever ask for.
Where do you look for artistic inspiration? Surfing? Snowboarding? Something else?
Even though I surf all the time and love snowboarding, emotions and people and the state of the world influence my art the most, rather than those sports in general. When I was younger, I painted waves and things like that more so as a training tool to learn different techniques, so once I learned them, I was like, "Okay, so now what? How can I have a deeper meaning to my art that people can look into and interpret in their own way?" So now I do all kinds of different things with my art—if I see something funny, something on the street, a word or an interesting person, these are the things that influence me more now. I love surfing, snowboarding, making art, and everything that's involved, and I just want to continue being creative—always making something or traveling somewhere or meeting someone new. And being happy—that's the most important part.