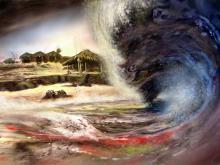 RICH MORRISON - SURF ARTIST INTERVIEW
When is the last time you surfed?
down at blacks 3 to 5 foot and cold with red tide!
When did you start surfing and who got you started? 38 years ago my good friend scott in new port.
What was your first board and do you still have it? scott gave me a 6' 10 rocket fish I wish I had it still it was so sick.
When did you start designing creative pieces and artwork? I have been an artist since a grom. went to art school and then worked as a artist for OP, quik, sex wax, disney and others.
Who have been some of your major art influences? m.c. escher, picaso, van gogh, warhol, pollock
What was the 1st piece of art you sold and to who? a drawing of a ranchy girl on a wooden skimboard  I made in wood shop in high school, and sold it to my friend!
Are you available to hire for custom artwork or designs on surfboards? yes Im not doing surfboard graphics any more but custom canvas paintings yes.
Who are some of your favorite pro surfers to watch and follow? slater, rodger eales, marzo, the irons brothers, fletcher and all the hellman at chopes, jaws, and mavs.
What other current artists do you follow or admire their work? wolfgang block, robert fisher, banksy
What countries have you traveled too for surf & art? samoa, el salvador, hawaii, mexico
What was the craziest, dangerous experience you've had traveling? having machine guns pointed at me driving through town in san blass while visiting to surf matachen bay. lots of other crazy stories.
What was your favorite art piece so far and why? my micky mouse surf club shirt that I made for the walt disney theme parks, it was an honor and my grandfather always wanted to be an artist for disney. and my beer can surfboard sculpture out of 72 recycled beer cans. many favorites though!
Do you create art with an underlying message in your work? some times! my work can be a lil editorial or oppinonated and political.
Where can people find your artwork?  Do you hang your work in any galleries? right now im looking for the right gallery to have a killer show with my new enviro surf art series.
Do you have a website where people can view your artwork or order online? right now just on facebook @ enviro surf art series,  my new web site is under construction. here is the link to the beer can surfboards last ride at uppers! http://vimeo.com/user3017938/enviro-surf-art-series-part-deux
Whats your local break? Blacks and wind n sea
What type of boards do you prefer to ride? i like my fishes and my hippy pintail by larmo
What do you like & dislike about the Digital Age? I like that I can work faster and smarter with it so I can have more time to surf.
Are you involved in any charities or causes you would like people to know about? I help raise funds by donating my art to pipeline to a cure, surfrider foundation san diego chapter, life rolls on,
Final thoughts? if your happy, Im happy! try to do something different, go have a beer and smile! life is short! dont follow lead.
INTERVIEW BY: JOHN COCOZZA PHOTOGRAPHY