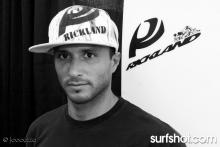 How many years have you been shaping for? I have been shaping for almost 14 years.
What was the catalyst for you to pick up a planer and start mowing foam? Well, I was an amateur surfer trying to go pro, but due to a neck injury I was no longer able to pursue my dream. I had already shaped a few boards for myself and I wanted to stay in the surf industry. One board led to the next one; I was basically shaping boards for myself, friends and their friends. It never really crossed my mind that I would be where I'm at today. Definitely I'm not in it for the money. I think I've lost more money than I profited. I just love being in the shaping room, testing new models and traveling with my pro team. The best reward is when I see guys in the water, who are stoked, ripping my boards, and featured in magazines or on film. I've met so many good people in this industry and do not regret choosing this pathway.
Who are you shaping mentors or influences? George Gall from Plus One Surfboards, WayoWhilar, John Shultz, William Riedel aka Stretch, Rusty, Cordell, and John Carper aka JC-Hawaii.
Specifically who was the one shaper that you had the most respect for and always wanted to accomplish as much as they did? That's a tough one; I picked up different things from my mentors and shaper friends. I think I always had respect toward my mentors/friends and any other shaper and craftsman in the industry. I'm always trying to be unique by creating and accomplishing my own goals, but I also look up to my mentors. I would like to become a Rusty or a JC one day, although it seems like the more boards and more pro riders you have, the less money you make, ha-ha Like I said, I'm here for the love of the art.
How has the economic recession the last 2 years affected Rickland Surfboards and what drives you to continue to shape and push through? The economy has affected everyone in the world. The past 2 years have been definitely the toughest, but I managed to continue making boards. 90% of all my orders are customs and I have also acquired distributors in other countries. I get lots of people who come to me asking me for a discount or a deal "because of the economy" and the best answer I give them is that when my overhead cost, Pro team, advertising, gas, bills, blanks, fiberglass and other expenses cost me less, then I will give them a discount. Come on! Is not like you walk into the farmers market and ask to get 50% off the groceries right? Especially when a guy drives a Mercedes or a Hummer and he's asking you for a discount. I consider that very disrespectful, because it is obvious that money is not an issue to him, but a lot to me. I figured, whoever is coming to order a custom board, definitely has the money to buy a board at full retail and if they're so tight in money, then they should not be ordering new boards, simple as that. I have a sale though at the beginning of each season to increase sales.
Tell us about the relationship between a shaper and major ASP team rider.  What is the most important ingredient between the two whether communication, personal repour, sharing of knowledge, board testing and feedback? Everyone in team has a great talent. Salvador Voysest is been one of my best team riders and best friends for a long time and he's one of the best surfers from Peru. His feedback is very important to me because he understands the type of waves back home better than anyone I've known.  I been making boards for Sunny for the past few years and feedback from a former World Champ is not to be taken for granted. He's helped to develop a board for bigger surfers. Lately I have been working with my newest grom Kaikea Elias, a talented grom from Kauai. Kaikea has been surfing with JOB for many years and the kid is spectacular, his website is kaikeaelias.com. I'm also working with Ross Williams. I had to get Ross on the team, he was one of my favorite surfers from the momentum era and his style adapts to even the newest tricks. I'm working on Ross and Kaikea's signature models and soon they  will join my board  line up. lastly Jamie O'Brien, I shaped a few quivers for him and they're are working really good for him. The relationship with them is very important to me, at first it seems like all about business but as the time goes by we developed a friendship and enter the circle of trust. Their feedback is a must, because it helps me to make better boards. I try to communicate with them as much as I can and go on surf trips with them. Our next trip is to Peru in January.
Who are some of the latest talents to the Rickland surf team or surfers you had shaped boards lately? Well... Riders come and go but I've had Salvador Voysest for several years on my team. I have been shaping boards for Sunny, Simpo, Jamie O'Brien and I recently welcomed Ross Williams and Kaikea Elias to my team. There are other good local surfers like Josh Vanderwaall who help me to develop new shapes, eventually those shapes pass on to my pro team and if approved it goes to my catalog.
OK, so I am going to name the spot and you tell me the board that you would shape for yourself to surf it...
J-Bay - RPM with rounded tail or The BALA model.
Hatteras Outer Banks - The Shred-sled or the Bandit model.
Padang-Padang - The Charger model or the M3 Mental Mission model.
Cloud break - I hope I get to surf it soon with the Charger model or the M3 Mental Mission model.
Lowers, Trestles - The Bandit or the Shred-sled model.
Cabo Blanco - Shred-sled, BALA or the RPM model.
What is something that you are seeing in the Surf Industry that stokes you out? I keep seeing more groms surfing, that amps me up. Especially when I see my own groms, how fearless they are and how much they want to achieve in their surfing. My 6 year old Luke paddles on 3 to 5ft day all the way out by himself, of course with me right next to him, but stokes me out to see him doing that. The kid is tired of surfing little damn shore brakes you know? My oldest daughter is 12 years old and she learned how to surf on her first session. Not because they are my kids, but it amazes me to see how well the next generation of surfers is going to be. That makes me stoked!
If you could have any 1 board that you have seen in person through the years that was crafted by another shaper then what is that board? Shoots, that's a question you don't hear that often. Hmmm, I'd say a 6'0 x 18.25 x 2.19 shaped by JC. I rode that board in 2001 and I absolutely fell in love with it. I feel like that particular shape, helped and pushed me so that I can become a better shaper than I was then, because I wanted to shape all my boards exactly like that one magic board. Nowadays, I'm in love with my 5'4" x 19.38 x 2.31 bandit board and there's no way back, ha-ha.
Any shouts to anyone out there? I would like to thank you John for the opportunity and I like to thank all the friends and family, Team and loyal customers for all their support throughout this years. I also want to thank to my sponsors Animal, Ocean Current, Futures Fins and Pure-Glass for all the goods and support as well. There are so many people I would love to mention, but it would turn this end of the interview into like 3 or 4 extra pages, ha-ha.
TO LEARN MORE ABOUT RICKLAND SURFBOARDS
PLEASE VISIT - http://www.ricklandsurfboards.com
Interview by : John Cocozza for Surfshot Media Inc.
Portraits by : John Cocozza Photography Inc. http://www.cocophotos.com