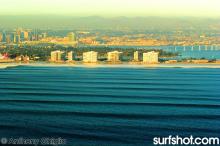 The forecasts were claiming the biggest swell in 10 years. Some were skeptical. But as Wednesday morning rolled around, the buoys were reading in the 15-foot range at 17 seconds. We all knew we were in for something. Surfers woke up that morning to find the ocean already spewing double overhead waves. Throughout the day, wave faces reached up to 20 to 25 feet—in some spots 30 feet—and those brave enough suited up to engage in the ultimate showdown of man versus nature on what came to be known as "Big Wednesday."
So, just how intense was the storm that produced this memorable swell? Contrary to what you might think, the low-pressure system that caused "Big Wednesday" was not unusually big. Rather, three factors came together to give birth to this fury. First, the storm was not that far off the coast, about 1,200 miles, meaning that storm's energy didn't have the opportunity to die down. Second, its west-southwest direction, coming in between 260-280 degrees, sent the swell head-on. "It's really rare to see a swell from that west of an angle—it got in everywhere," explained Surfline forecaster Kevin Wallis. Lastly, because the storm was formed at low latitudes, tropical moisture was sucked up into the system, adding to its energy.
Locals compared "Big Wednesday" to the legendary swell that hit the coast in 1998 and the El Niño induced swells of the early 1980's. But while spectators scratched their heads trying to figure out when they had seen it this big, lifeguards were busy at work. Riding jet-skis at spots like Swamis, they helped more than 100 surfers who found themselves in over their heads.
Big- wave spots housed unimaginable waves. Stories buzzed the coast of the places like Blacks, Ghost Trees, and Mavericks. Some big-wave chargers took red-eye flights to reach the California coast in time, like Nathan Fletcher, who flew in from the North Shore to ride Mavericks. Other big-wave riders headed straight for the border. Brad Gerlach towed-in at Todos Santos to catch his Billabong XXL award-winning wave, a wave estimated at 68 feet. "It may have been the biggest, best Todos I've seen in over 20 years of shooting the break," said Robert Brown, the photographer who caught Gerlach's insane wave on film.
The "Big Wednesday" swell wasn't the end of it though. Just as the low-pressure system that created the first swell made its way toward the coast, a second storm emerged on its tail. Not long after, a third miraculously appeared behind that. For nearly six consecutive weeks, California enjoyed pumping surf and favorable conditions from Point Conception all the way to Imperial Beach. It truly was an unparalleled California winter.
With memories of last winter's surf still fresh in our minds, we head into our season keeping our big-wave boards stowed, but not too far out of reach.