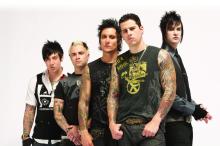 Music doesn't come without criticism. Huntington Beach rockers Avenged Sevenfold know this as well as anyone. They've also taken it in prideful stride and haven't looked back. Labels and genres are everything to critics – it's the foundation from which we work. If you sound like someone else, you've either taken a page from their book or you're trying to rewrite their memoir. If you stray from what you know, it better be damn good. Otherwise your name will be grated like cheese and your ego popped like a pubescent pimple.
Where does this leave a band from Huntington Beach who loves everything from Pantera to Public Enemy? Pick up where Fred Durst left off, mix it up and do it all for the nookie? Not the best idea if you plan on sticking with your record label.
Avenged Sevenfold's recently released their fourth album and I can't find a label that sticks. Their first album was by far the hardest and most easily identified as metal. The second introduced more melody and musicianship. The third welcomed a major label and glossy production. And the fourth, well, it doesn't sound a damn thing like the first. This is what bands do when they'd like to stay around – they change, progress, evolve. Throw Pantera, The Eagles, System Of A Down, and 8 ounces of Beatle Juice into a partitioned Christmas popcorn bucket and put a bow on it. Merry Christmas, that's Avenged Sevenfold's latest self titled record.
Avenged's guitarist Zacky Vengeance sat down to discuss Huntington Beach, strippers, Warner Brothers, the fans and the life that is rock n' roll.
SS: How has living in Huntington Beach affected your music?
ZV: Oh, wow. There are so many great bands that have come from Huntington. It's just a great place. You can go hang down by the beach. You can go drink with your friends on Main Street. It just puts you in a good mindset. Being from Huntington you have everything – you've got surfers, skaters, punk rockers, rich people, homeless people, gang bangers. We just take all that shit and that's probably why we love punk, metal and hip-hop.
SS: What are the perks of making the jump to a major record label like Warner Brothers?
ZV: We're able to take more time in the studio and make cooler videos because we have bigger budgets. One of the most important things Warner has done for us is they've been able to get our music into the hands of kids across the world. The most important thing as a band is to make good music and connect with our fans. I'm standing in my hotel room in England right now, and it's a blessing that we're able to come out here because the kids actually know who we are after having heard our music.
SS: Was there ever one defining moment when you looked around and realized you were finally living your dream?
ZV: There's two actually. One is last summer, when we were in Berlin to open for Metallica. We walked back stage and James Hetfield and Lars and Kirk and Robert come into our back stage and say "We're psyched to have you guys on tour. Are you guys ready to do this?" Next thing you know we're walking on stage in front of 100,000 people, and we're like "Holy shit! We're on stage with Metallica and they just acknowledged my existence." It's just unreal, at that point you don't even care how you play, you're just ready to fall over and die.
The second time was at the VMA's on MTV in 2006. I don't even know who we beat, I think Rihanna and shit. When they called our name we were all half drunk and not even expecting to win at all. It was great going up there with my friends in front of millions of viewers and to take something that we started in our singer's garage and show it off to the whole world.
SS: How many songs did you start out with on your latest self-titled album?
ZV: There were originally 24 songs that we had written and we recorded 18. We produced the album ourselves so we had to cut it down and decide which songs represented the band the best. The songs that didn't make it will eventually come out. Our fans will hear them. In the end we finally agreed on the ten most solid songs.
SS: Are you at all nervous about your fans reaction to the country song "Dear God"? What do you say to the people that will inevitably talk shit?
ZV: I think kids are really going to be into "Dear God" especially because of the almost Eagles vibe, like your cruising through the desert. I doubt we're going to scare any fans off, especially after a song like "A Little Piece of Heaven", 'cause in that song we're talking about killing your girlfriend and putting a heater between her thighs to keep her warm. I think people will still have faith that we're out of our minds. We've all been there when you're far from home and away from your girl. And yes, people may talk shit and say, "Avenged is going country!" I don't have anything to say to those people. I can only hope that they'll like some of our other music or go back and listen to some of our other albums. I'm really not too worried about it.
SS: Which guitar solo on the new album qualifies as the showstopper in your eyes?
ZV: My favorite solo is in "Afterlife" because Sin (Sinister Gates) is going nuts on that one. The one I think that will get the best reaction is the dueling solo in Critical Acclaim because it almost has a Mediterranean vibe to it that really seems to work.
SS: If you were outcast to an island and could bring only one artist's music collection, whose would it be?
ZV: I'd say The Beatles because they're so great and because there's so much of it. If you go with The Beatles you have enough music to last a lifetime.
SS: I've read that you guys are strip joint connoisseurs. What's the best club you've been to?
ZV: Oh, wow. I'd say Las Vegas has the best caliber of girls because they have girls coming in from around the country for the weekends. The girls in Vegas are just sickening – it's unbelievable. Between the music, the drinks and the girls – it's got to be Vegas.
SS: You're fan base, much like AFI's, is one of the most loyal around. Has it been easier to experiment more and more with each album knowing that they've got your back?
ZV: With every album we've done we've lost fans because not everyone is willing to stick along for the ride - it's been a wild ride so far. We're always trying new and different things, trying to keep it fresh for everyone. The kids who've stuck along have had the opportunity to go to some great shows and meet some lifelong friends. They've allowed us to get that much wilder with our music, and I think they expect it from us now at this point. We truly relate with our fans and as a result we're out here in England playing in 300 capacity clubs when we could be selling out stadiums. We like to go back to where we're from, playing the smaller clubs and in doing treating our fans well.