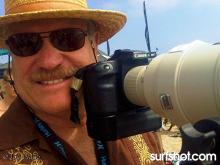 I enjoy watching fun waves and good surfing, the two things that all of my images contain.
About me:
Surfer: WSA 3 A rated and competed in 6 US Amateur Surfing Championships.
Judge: Judged/Officiated hundreds of amateur and professional surfing events.
Director: Competition Director of Windansea Surf Club (80's), WSA District Director (San Diego) and WSA Competition Director (West Coast)
Coach: Coached a Womens Amateur World Surfing Champion.
Photographer: 500 (and counting) Surfshot expression sessions.
Like my Photos? Call or email me for photographic Surf contest coverage or private Surf photo sessions at your favorite break.

Aloha
Joe Ewing