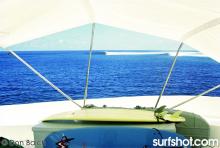 Do you ever think about people you've surfed with when you're out in a quiet surf session? I do. For me, the relationships with those we share the surfing experience with stand out in my mind. Some of the notable people I've encountered in my years of wave riding and through decades of social changes could fill a book. Some have ridden a few waves into the memory banks for being well-liked and respected while others are memorable strictly for being colorfully outrageous. They can be like a sort of yin and yang dichotomy of the human condition.
Bunker Spreckels was one of these guys who seemed to live by the credo that "excess is best." He was an heir to the Spreckles Sugar fortune and stepson of movie star Clark Gable. He lived on Kauai for a time and in the early 1970's got into riding some very spacey experimental surfboard designs. He also dug big guns…the shooting kind, and liked to go on large animal hunting safaris. He was a pretty wild dude in my humble opinion, and his world-wide exploits became legendary. Miki Dora once called him "the genetic space-child."
So, I was in Biarritz, France, during the fall of 1972. A buddy of mine who knew Bunker was in town said we should pay him a visit. We went up to this fancy, five-star hotel and knocked on his penthouse door. He swung the door wide open and…uh, he was totally naked. He had no idea who was knocking and it sure as hell didn't matter! He was in party mode and certainly had no inhibitions about what people might have thought. It was quite an introduction! We stayed for a while and checked out his bizarre, stubby, fishtailed boards with super-hard, toilet seat-edged rails. Bunker said they really ripped in some eight-foot surf he had recently ridden. I had never seen boards quite like them in those days. He also told us he didn't like his Mercedes rental car and wanted to cruise the Grand Plage in something hot, like a fire engine-red Mustang convertible. My friend and I looked at each other incredulously. This was France. How about a Citroen instead? We bid adieu and told him we would hook up later that week for a go out at Guethary, the local big wave spot.
When we saw him again at Grand Plage, which was like the local beach hangout spot, he was wearing a bright colored sports jacket, no shirt, trunks and some futuristic wraparound shades. His blond hair was slicked straight back. The man's car had his quiver of space sticks sticking straight up in the back seat (some phallic symbolism perhaps?) behind a bevy of totally hot-looking French babes that he picked up from god-knows where. His ride? Yep, a bright red Ford Mustang convertible with the top down to show off the goods as he cruised the beach! This guy was the total operator and made quite an impression. But like a roman candle, he eventually flamed out. For Bunker Spreckels, it was too much, too fast and too young, back in the heyday of recreational drug use. Too bad.
In 2004, I took a memorable surfing boat trip to the Maldives Islands in the Indian Ocean. Our crew consisted mainly of old buddies who had known each other for years. With our Captain Waheed and surf guide Fayaz skillfully in charge, we navigated the shallow atolls and had many beautiful, empty surfing sessions. Everyone on the trip was terrific in their own right and one individual, Brad Johnson, highlights my memory for a number of reasons. Brad, or BJ, founded the first really good surf shop up on the Monterey Peninsula back in 1976 and I feel his friendly, giving personality had a lot to do with its success. He also started the annual Sunshine Freestyle Surfabout Contest at Carmel Beach, which just had its 26th anniversary this spring and is a great local event. Although he eventually sold the shop and relocated to Ventura for work in the marine industry, Brad still helps out with the contest every year. He is much admired in the Monterey area. A family man adept at surfing, skiing, sailing and music, BJ is one cool guy.
Anyway, as often happened, we anchored a ways off a nice reef break, and it would look smaller and tamer than it really was, until we paddled out. One kickback afternoon, I went out by myself and was surprised as some of the biggest sets of the trip started to rumble through. I forgot my booties, and with a shallow, pounding inside reef, I felt a little apprehensive being out alone. Then Brad paddled out. "Doing my civic duty," he said, so I wouldn't be tackling it solo. We laughed. It was definitely more relaxing surfing with a friend out there in the middle of nowhere. We both got some big takeoffs and long screaming walls. It became an epic session! Ironically, his leash finally snapped and his board washed way inside on the dry reef which was a hassle, but he took it in stride. That's Brad Johnson.
When it came time to end our trip, the boat crew had a spectacular dinner feast set up for us on a small uninhabited island. Brad instigated a hand holding moment of thanks with our entire crew of Maldivians and Californians. It was pure soul and a truly beautiful moment. He also had the idea that we should make up goodie bags for the boat crew with T-shirts, shades, money, whatever we wanted to include, which he then handed out to the appreciative crew. It was a great give back opportunity and typical of BJ, who has always been a classy, sharing individual.
Recently, I got news that Brad had been diagnosed with a serious form of cancer. He took on a distressing situation with a positive attitude and treatment plan that leaves me feeling good about his recovery. He called me recently and left a very upbeat message, which reminded me of the feeling I got when he paddled out in the Maldives with me, one of relief and caring. An outpouring of shared love from friends statewide is also assuring that his large medical expenses will be dealt with as numerous fundraising events are being planned on his behalf. Naturally, I'll be contributing to the cause and happy to do it for someone as deserving as Brad Johnson.
Sometimes I'll do some deep reflecting when I'm out in the surf waiting for a wave and I smile when I think about the gamut of people I've encountered my surfing life. Yeah, it's all good.