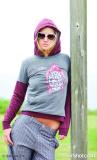 Huntington Beach, California, 1995. Some friends got together in a garage and started hand sewing small bags and wallets out of old Naugahyde. The style of the gear was fun and goofy, using a monkey named Julius who has since become synonymous with the brand's name. Soon after, they started making t-shirts, eventually producing a full line of clothing. Today, Paul Frank's "geek, but still cool" look is regarded as one of the more dominant of its type.
Led by bright colors and unique designs, Paul Frank has reached unconventional, worldwide success because of its almost cult-like following from pre-teens to twenty-something's. Their shirts' logos follow a similar pattern; quirky sayings that deal with silly insecurities like "my mom dressed me" or " my mom thinks I am rad." They have also been known to poke fun at the rising indie music scene with t-shirts saying, " I am way more indie," or the start-a-band t-shirt that has the sheet music for the A, D and G cords and at the bottom reads "Now start a band." Paul Frank seems to have found all of the right ingredients to make the perfect dish for today's indie movement.
Paul Frank has also done collaborations with artists and companies. The Andy Warhol wallet was very cool; they used Warhol's famous banana painting and put it on a wallet. The John Deer belt was a huge success after Ashton Kutcher made the trucker hat his staple accessory. My personal favorites are the wallets that were designed for the band Pretty Girls Make Graves. All have the same look and quality of a small, handcrafted company.
To pick up some swanky Paul Frank gear in San Diego head over to South Coast, Active Ride, Emerald City, Rusty Del Mar or Riders House board shop.