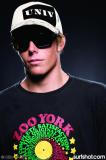 Name: Pat Millin
Age: 19
Hometown: Solona Beach, CA
Spot: Seaside Reef
Sponsors: Zoo York, Macbeth Shoes/Sunglasses, Univ, Dakine, Byrne Surfboards
Board(s): 6'0" Byrne round tail shaped by M.B.
Teacher: My dad
Travel: At the start of the year I went to Hawaii for a month-and-a-half to train and to see if I have what it takes to become a pro surfer. Then from there I went to Oz to stay with a good friend of mine, Daniel Thomson, and try to film for this upcoming fish video called Hydro Dynamica by Richard Kevin. It's about Bob Simmons and it's starring D.T. and David Ratsavich. It's going to be a big deal. Then I came home for a month and then went to Maine for a big swell. It was crazy. It was the coldest water I have ever surfed in. It was like 40 degrees. I was wearing gloves and seven-millimeter boots. It was worth it though. There are some really good point breaks up there.
Favorite experience: I would have to say Hawaii and surfing Pipe. Pipe is such a heavy wave and probably one of the best waves on the planet. And the level of surfing out there is amazing. When your sitting in the line up you look over your shoulder and there are some of the best surfers on the planet. So it's a definite eye opener and very humbling.
Favorite 'CTer: The Irons bros.
Style comparison: I've been told Lossness, but that's a big claim. I think I have different style that separates me from anyone else, but who knows.
Competition: I was on the Macbeth team for the Switchfoot contest at D and we ended up wining the event, so that was cool. Then last year I got my feet wet in some WQS events, but never did well in them, a lot of second round eliminations.
What aspect of surfing is most important to you? Right now free surf and travel. I would like to get my surfing to a higher level, get the right boards for different waves, and to believe in myself and have enough confidence in my surfing to win events. So right now my focus is on improving my surfing so that when it comes to contests I'm not wasting my time or money.
"What can I say about Pat Millin? He's a straight villain. I've watched a lot of these kids surf over the years and Pat definitely has what it takes to blow up." – Billy Watts, photographer