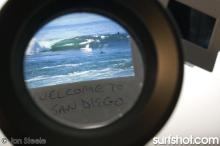 Some people, when they look back at the younger times in their lives might refer to them as "the good old days." That's subject to debate, but for me, things were definitely different back in our previous century. It's all about what you take away from your experiences.
Three friends and I took out first big surfing trip out of our Santa Barbara County homes during the late 1960's. We thought we were pretty worldly, just getting our driving licenses and white-knuckling it into the fast and frenzied traffic through Los Angeles. There was more smog back in those leaded-gas days and the thick, brown haze hurt to breathe. We all felt dizzy, our eyes stung and couldn't wait to get the hell outta there to the coast, to the supposed "Surf City U.S.A" of Huntington Beach. We wanted to see what all the fuss was about down there.
Old H.B. seemed a little rundown back then to us with lots of funky bars, greasy spoons and a number of surf shops elbow-to-elbow near the beach. However, when we walked into George's Surf Shop on the main drag and saw the wall-to-wall display of shiny new big name-brand surfboards, we were in awe. Bing, Hobie, Greg Noll, Rick, Dewey Weber…they were all there and more, all the slickest designs. See, we came from a town with just a few small store front surf shops with Yater and White Owl and a couple others being the main boards of choice. George Draper, looking like a sun-bronzed god, tried to smooth talk us into a new board, but we were only there to ogle.
Then we surfed at the famous H.B. Pier, but after being used to the clean, lined-up symmetry of Rincon and Hammonds Reef, surfing the quick, peaky dumpers on the north-side of the pier was a bit awkward for us. The sun eventually sank into a solid wall of brown smog and we all felt a bit woozy. It was time to head south to the more inviting destination of San Diego.
Along the way, we surf-sampled Beacons, Swamis and La Jolla Shores. The water was much warmer than Santa Barbara. One of our group had an older brother working at the Bahne surfboard factory so we checked that out. While there, in walked a real surf star with his long blond hair, fur coat, bell bottoms and piercing eyes. It was Mike Hynson – star of "The Endless Summer." Oh my god, we were staring spellbound like any young fan of any big-time celebrity. Hynson was picking up one of his new fully low-railed pintail designs. It looked built for speed and he definitely had a presence we had not experienced before.
That evening, we drove into downtown San Diego to check out the city action. Man, it was so "colorful" on Broadway back then. Groups of sailors and hookers were milling about on the sidewalks. Horton Plaza didn't exist back then. It all seemed a little seedy and unseemly to us small town kids. We questioned even being there and quickly slipped into the Spreckels Theatre where "The Good, The Bad and The Ugly" was playing. The movie house had a noticeable rising, smoky haze of cigarettes and weed inside. It was also overly warm, almost muggy in there. Empty beer bottles clinked and loudly rolled down the aisles. Yeah, it was clearly a different world back then.
After the flick, we drove back up to the mellower region of Encinitas. We parked the car by the side of the road and walked into the San Elijo Campgrounds, cruising for possible teenage girls who were maybe out, getting away from their camping families. All of a sudden, the four of us were surrounded by police with flashlights and were hustled into a nearby paddy wagon. The stunted explanation we got from the deadly serious cops was that we were trespassing in a campground we had no business being in. They ran us around for a bit, I think basically to put a scare in us and then drove us out near our car and told us in no uncertain terms to "get the hell out of San Diego County." You better believe we did too. These guys looked like they would have enjoyed taking their billy clubs to us if we gave them any kind of lip.
To make matters even more interesting, our driver's VW squareback broke down along the 5 freeway, and we were stuck driving in second gear with a top speed of maybe 30 mph. We plugged along the coastal highway all the way up to Huntington Beach, pulled into the parking lot of a roadside motel and crashed out inside the car. Two of us slept upright in the front seats and two in the back--not at all comfortable and we even got rousted before dawn by a security guard who told to get lost, again. We did, going 30 mph, all the way home.
Yeah, it was all a learning experience but we weren't deterred by any of the crazy stuff that happened. We laughed it off and returned to the O.C. and S.D. on lots of other surfing adventures. But that's a whole other story.