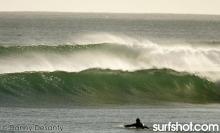 Imagine driving south from San Diego into Mexico. It's early in the morning and the car is freshly packed to the brim for a few days in our closest surfing frontier. The sun is peaking over the hills behind San Ysidro. You wipe the last bit of grogginess from your eyes as you embark on a journey down the Baja peninsula. Your coffee mug is half full. You have Mexican insurance this time and you're stoked that the camping gear isn't jabbing you in the neck.. It's been a while since you made the trip, but you assume that all the desert fruits you enjoyed so much back in the day remain unspoiled. You imagine your favorite spots waiting impatiently for you and your friends, ready to throw flawless, peeling waves down empty pristine points. You don't even care if you have to split a few sessions with the local ex-pat and a few college spring breakers. There's time to share in Baja.
The border crossing goes uneventful. You get the green light and you navigate down the lane-less Tijuana roads. You're surprised to see the northbound border choked with semi-trucks sputtering sooty, black smoke into the crisp morning air. You quickly forget it all as you near Playas de Tijuana.
You round the bend and get a first glimpse of the ocean's mood. She's alive and well. The water is a fuzzy glimmer. You can only imagine what all the coves, reefs, points, wedges, and drainers are doing. You want to surf every peak you see, but you keep trekking south.
You notice that the road has been widened significantly, providing an extra southbound lane and two additional lanes heading back toward Tijuana. But northbound traffic is still slammed.
You reach Ensenada and it's teeming with traffic. The line of semis winds its way through the slammed streets. People walk amongst the traffic. Cars are pointed in every direction. There are more panhandlers, piggy banks and churros than you've ever seen at the border. A mangy mutt pisses on your tire. Hours pass in the maddening disorder. Finally you are spit out at Ensenada's southern end.
A few hours pass and you are dipping and weaving through the mountains. The semis continue to flow northward, crawling up the inclines, and then barreling down the steep grades toward you with frightening speed and force.
A few miles south of San Vicente the road turns west. It follows a low valley nestled between steep hillsides where the San Rafael flows down its seasonal course. Tall oaks line the watershed and the terrain takes on a Provencal beauty. There are a few more gas stations than when you were here last. Parts of the valley are cleared and leveled. Development awaits. Then a train chugs over the horizon in front of you. "What the…" Your paths meet and you drive along what seems like miles of cargo containers being pulled at an archaic pace. The only train line in Baja you know of connects Mexicali and Tijuana. It runs parallel to the border. Although the tracks are somewhat obscured by the trees, you know this didn't exist last time you drove the stretch. The train passes and you read a sign beside the tracks that says "Ferrocarril Punta Colonet-Yuma." And that explains it all.
You soon find the little hideaway you'd claimed is gone. The agricultural town on Highway 1, where the dirt road toward the coastline began, is transformed. Shanty homes sprawl up the hillsides. You pass a Costco and a Walmart. Cargo trucks spew from the newly paved coast-bound road. In the distance, tall cranes grab loads off massive ships.
Here's the deal: Baja now belongs to developers, the Mexican government, mining companies, factory owners, hundreds of thousands of relocated workers, and a Chinese billionaire.
By 2011, if all goes accordingly, construction on a mega-port larger than the ports of L.A. and Long Beach combined will begin at Punta Colonet, a barren point 50 miles south of Ensenada. The area now is home to several good surfing spots, a few fishermen. It is also an ecologically diverse and pristine coastal region. The nearby town of Colonet houses about 5,000 residents. All this will change.
As we are experiencing an ever-increasing flow of commodities and assembly parts from East Asia, West Coast ports are reaching their capacity. Forecasts claim that Los Angeles and Long Beach will become saturated by 2012. This has lead to a search for new infrastructure to meet the United States' import levels; but with strict environmental laws and limited land, there is little opportunity to expand or build in California.
Free trade allows us to look south for such a project, where an abundance of land, lax environmental protection and a weak economy in search of growth favors development.
Hutchinson Whampoa Ltd., headed by "the superman of the Orient", Li Ka Shing, is the world's most expansive developer of ports. This company is slated to build and operate the port at Colonet. The Mexican government will be in charge of necessary road and service improvements to support the 250,000 people expected to live in the area, as well as the added pressure of such a substantial increase in cargo flow up the peninsula. A rail link to bring products to the American heartland is now proposed to connect Colonet with Yuma, Arizona. In total, the project is anticipated to bring over $20 billion in investments to the area.
To countries the world over, economic growth and productivity is a universally desirable end. The bottom line is that underdeveloped countries like Mexico need growth more than others, and therefore tend to rush such growth or foreign investment. The side effect of that hastened process is that environmental standards aren't a priority. A project this pretentious, and its subsequent development, will completely overwhelm the infrastructure between Colonet and San Diego -- making your drive through Baja Norte more painful than rush hour traffic in L.A. The Mexican government will be in charge of all necessary improvements to cope with the added activity and something tells me those needs won't be met. Those needs can't be met. How do you widen roads at the edges of cliffs? How do you add more lanes to the border route through Tijuana? How do you go about building adequate sewage treatment facilities for hundreds of thousands of people? How do you attract visitors to a coastline whose ocean is literally full of shit? How do you surf a wave you can't get to or that now has a crane in the way of the hollow inside section?
The development we are witnessing today would not have been possible 20 years ago in Mexico. Communal land holding called ejidos were protected under federal law. But in 1991 the law was changed and allowed the ejido land to be broken up and sold to anyone. This has opened vast expanses of coastal land to various ventures. Add some environmental neglect and a welcome mat for economic expansion and development in Northern Baja went haywire.
Let's look at the facts. In the past five years a Liquid Natural Gas terminal was constructed just north of Salsipuedes. It destroyed Harry's, a semi-secret right, and paved the way for highly volatile energy production along the coastline. You can see the cranes as you drive north between San Miguel and Salsipuedes, that beautiful swath of unspoiled land beneath a coastal view that rivals Big Sur.
The ranch at Salsipuedes was sold and a multi-purpose residential and commercial development on the pristine stretch of wave rich coast has begun. The Escaleras Nauticas project, an effort to promote boating along the windswept, rocky, lighthouse-less, relatively deserted and wave pounded coastline is well underway. A sand filled harbor at Santa Rosalillita, the second youngest of seven sisters, marks the project's progress. Scorpion Bay is on the backburner to be t