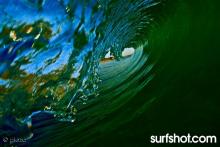 Name? Mike Delanzo

Canon and Nikon? All Canon

First Spot in California you shot surfing? Huntington Beach

Land, Water, or Both? Both mostly WATER

What makes photographing surfing your passion? Getting the NEW & creative pic and also the chance of getting the $$$ SHOT! Along with documenting my history!

Which spots have you seen the heaviest wipe-outs while shooting? PIPELINE, and a few of my own surfing there back in the early eighties...

Whats your favorite rig to shoot with? My SPL wide 10-22mm and my 70-200mm water housing!

Where have you traveled to doing surf photography? I have travel to baja and Mainland Mexico, Hawaii & up north to Ventura, Central and Santa Cruz

Where did you get skunked the hardest? I have yet to be skunked...... Yet!

Alternately where did you score the dream trip? The best was North shore Hawaii!

Where is the next stop, what country are you dying to get to? INDO ...so want to go and shoot for 6 months and get some NEW spots photographed!

Biggest surf you have photographed in California and where? On BIG WEDNESDAY Dec 5th 2005 in San Diego to North county.

Morning or Afternoon, if you could only pick one time to shoot which and why? Early morning, has the best light i love the anticipation before i get into the water to shoot and the vibrant blues and orange colors the morning has to offer along with the surrounding!

Whats your favorite surf town on the California Coast? Here in San Diego North & South.

Big Waves, Airs, Barrels, Shredding, or Empty Waves? Which is your favorite to shoot and why? Airs and empty waves, The Airs shots can be beautiful if it has a bad s=ass back ground ! (control the photo shoot from the beginning and magical things happen!)

Have you embraced digital & social media as part of your photography business? Yes , i use the Facebook to help market my photos!

If someone wanted to purchase some of your photos for prints, how would they go about it? From my email ! mdelanzo@gmail.com and we can communicate.

What else do you photograph, in the commercial sense? All sports and commercial work.

Are there any causes or charities you are actively involved with and would like to let the surf community know about? Not yet....

TO SEE MORE OF MIKE DELANZO SURF PHOTOGRAPHY VISIT HIS WEBSITE:

http://www.smugmug.com/search/?