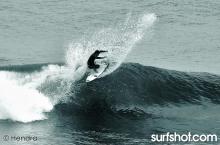 Name: Matt Macauley
Hometown: Seaside parking lot
Age: 22
Job: I was a valet for a year and a half, now I just do that on the side of being a lab tech for a molecular immunology research group near UCSD.
Sponsors: None…never really been sponsored. If anyone's interested though, I would be stoked on some free threads and a travel budget.
I surf because...even surfing horrible two-foot wind waves is addicting to me. It's that much better though when you are getting stand up tubes at Padang or some insane wave you've never heard of. I live for that feeling.
Quiver: 6'0'' Sauritch, and couple of used boards, but also a 6'3", 6'4'', and a 6'9'' for those big California days.
Travels: Indo, Australia, New Zealand, Fiji, Tahiti, Hawaii, Costa Rica, and Baja (scratch baja…I think everytime I've been, I've looked at BM's, saw that it was foggy and onshore, had a taco and left for home).
Crew: Mike Millin, his brother Pat, Kasey Doyle, Reid Ryan, Bryce Frees, Brett Jones, Iain Harris and basically all of the young punks that claim Seaside Mob and surf there every day even when it's really horrible and somewhere else is probably firing.
Heroes: All the Seaside legends like Dobs and Quack and the cool, young pros that are killing it like Austin Ware. I would've said Rob Machado, but then he really screwed me over at Palisades by turning around right in front of me and pushing my nose under just as I was about to catch the set of the day—what a weasel. I think he's genuinely a good guy, but I still hold that against him… I'm gonna get him back.
Zeros: Guys that have attitude and think that they are way more nuts than they really are. Whether they are sponsored, B-rate QS hacks that are never gonna produce a result and give you glares like they are the sickest thing around, or they are tatted kooks from Temecula that can't hardly go down the line but back-paddle you every time they get a chance. If you want respect, be cool and respect others.
Fav food: any free meal
Fav drink: H2O, it's pretty important too.
Beer or red bull and vodka: King Cobras when I'm feelin' real hard and red bull and vodka when I wanna get my groove on.
Home spot: Seaside
Home away from home: The Zillin chillin' pad
Shout outs: Zillins for puttin' me on, my brother and family for spoiling me like crazy, and all my friends from all over for pushing me.