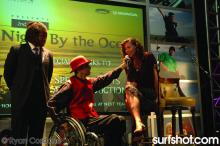 It was 10 years ago when Josh Billauer was surfing Blacks and fractured parts of the lower section of his spine due to, of all things, a chance collision with a jumping dolphin. The doctors told him it was no big deal, just a freak accident, nothing a few painkillers and a few beers couldn't help. A couple weeks later his brother, Jesse, was surfing a shallow sandbar at Zuma beach when he was tossed headfirst into the ground and suffered a complete spinal cord injury. Instantly, he was robbed of the use of his legs and was limited with the ability of his arms.
Prior to this freak accident, Jesse had been riding the crest of his career, competitively surfing all over the world, gracing the photo pages of several magazines, and named a "Top 100 Up-and-Comer" by Surfer magazine. Now, instead of going pro, he was abruptly thrown into the world of a quadriplegic.
Jesse survived after floating face down in the water without the use of his arms and legs, but just surviving the incident wasn't enough. Together with his brother and a supporting cast of friends and family, Life Rolls On was created. What started as an effort to raise funds for Jesse's massive medical bills eventually grew into a non-profit organization raising awareness and funds for spinal cord injury research.
When Jesse received a phone call from Christopher Reeve, who suffered a similar fate, he knew Life Rolls On was destined to be an influential cause. In the beginning, the ASP and the Christopher Reeve Paralysis Foundation partnered with Jesse and his cause, propelling his fundraising effort, each event bigger and better than the last. The spotlight really shone once the surfing world was introduced to Life Rolls On when Step Into Liquid gave the world a little glimpse of Jesse and his unbreakable determination to help others, and himself, find their way back to the water and surfing.
When you picture Jesse, you can't help but see him flanked by big names and familiar faces of the surfing and music worlds. These individuals (at a glance: Rob Machado, Ben Harper, Kelly Slater, Tim Curran, Dave Matthews, Jack Johnson) represent the strength of his philanthropic mission and show how eager people are to help. But it isn't just celebrities who are lending a hand, as the Life Rolls On program "They Will Surf Again" reveals. Experienced watermen, lifeguards and volunteers alike all come out to the beach to help those with disabilities surf again, and for some the first time! One lucky participant is given a custom made 8'2" Al Merrick board (the M-JB is named after its inspiration) at each TWSA event, but in the end all are rewarded with the incredible experience.
Jesse's life didn't end that day at Zuma beach. And with charity golf tournaments/dinners, auctions, concerts, a summer speaking tour, and even adding Oscar-Nominated Morgan Spurlock to the board of directors all on their plate for 2006, Life Rolls On will continue to help prevent spinal cord injuries from becoming the life-ending impairment they have been in the past.