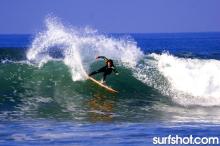 It's five in the morning and my alarm is screaming for me to get out of bed. No coffee this morning, it's that early. I make the trek from San Clemente down to Black's beach to meet one of the most talented surfer's San Diego has to offer. As I approach the parking lot I spot Lauren's car and peer into the white explorer to see if it's her. I'm greeted by Sweeny's Cheshire cat smile staring back at me through her car window. Her light heartedness and positive energy trumps a cup of coffee any day.
Balancing a full load at a high profile university and keeping her sites on a professional surfing career is tiresome and arduous, but despite the difficult transition from amateur to pro, Sweeney continues to fight the good fight by keeping her head up and eyes fixed on the prize.
"I never won a National title, so my transition wasn't as easy as some people's. Some are given everything and then go off on a tour expedition. I started doing random WQS events. One summer I decided to go to South Africa and England and do the U.S. Open. The transition was stressful. I lost in the first round in South Africa and England in the same year. That was not good. There's only one way to go and that's up," Sweeney said.
Sweeny's surfing is definitely separate from the rest. Her surfing is strong, extremely fast and her power impressive. She raises the bar every time she does a turn. Her surfing is progressive and is constantly pushing the limits. Her attitude coupled with her talent is inspiring.
"I think happy thoughts, sing a little song, do a little dance, make a little noise. I just try to have fun. I think once I start having fun, I start doing a little better. Just last year I made it to the quarters, equal fifth in South Africa. It was just because I was having fun," Sweeney said.
Right now her dream is on the back burner as Lauren pushes forward with her education. Not only is Lauren a talented surfer, but she is also an honor student at UCSD.
"School eats up all my time so, I surf everyday and do the 'QS part time when I can. I do them whenever they fall on my breaks or during summer. I'm trying to keep a seed, so when I graduate in 2008 and by 2009 I can hopefully go full time with a decent seed and kill it," Sweeny said.
Putting off the tour is risky and is arguably career suicide. The saying "Out of sight, out of mind," rings true here. Lauren's funds have been reduced mainly because she wasn't focusing enough on surfing and her absence in the media has been detrimental to her future career. Sweeny's realistic approach to her against all odds pursuit is apparent in her assessment of what is most important in the long run.
"I wasn't chosen from the beginning to be one of those stars destined for greatness, so I would just rather cover all the bases. I'm still young and I'm only going to get better. I'll only be 21 when I graduate, so I figure four years aren't going to make me or break me, it's only going to make me stronger. It proves that I can focus on something and accomplish a goal. Hopefully by focusing on finishing school I can prove to myself that I can focus on surfing and my dreams to qualify," Sweeny said.
Sweeny's ability to persevere and roll with the punches is evident in other facets of her life and will come in handy on her push to secure a spot on tour. She has recently decided that because of the rise in gas prices, riding her bike to school would save money and helps her get in shape. She makes the 12-mile and 52 minute bike ride from her apartment in Encinitas to UCSD in La Jolla on days when she has classes.
"There's this big hill called Torrey Pines [laughing] …books on my back, food on my back. That's how it's going to be, plus it's eco friendly. Hopefully I'll have legs of steel and buns of steel by the end of the semester," Sweeney said.
Her magnetic personality has opened doors to generous and loving people. One of her high school teachers took Lauren in by letting her rent a room for little to nothing in a comfortable house in Oceanside. They encouraged Lauren to not give up on school or her dreams of being a professional surfer. They showed her that she's entitled to dream and deserves the opportunity to see those dreams come to fruition.
"I could focus on school and surfing and grow and learn some independence. They were always super proud of me whenever I lost or won. They were really supportive of me traveling. It was one of the best years of my life actually. The experience shaped my life and my outlook by making me more open-minded. They helped me believe that you can do something," Sweeny said.