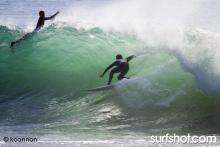 Name? Kyle Cannon
Canon and Nikon? Canon
Land, Water, or Both? Land
First Spot in California you shot surfing? Lowers
What makes photographing surfing your passion? I've been surfing my whole life, I love it more than anything.  I've been shooting photos most of my life too, so naturally the two mesh very well.
Which spots have you seen the heaviest wipe-outs while shooting?I've seen some bad ones at Swami's...usually some guys running each other over or someone dropping in on someone's head.
Whats your favorite rig to shoot with?I've been getting back to film a lot lately.  I've been shooting with an old Nikon n2020 with a few short prime lenses.
Where have you traveled to doing surf photography? I've been to Hawaii multiple times, Costa Rica a few times...planing a trip to Bali in the next year.
Where did you get skunked the hardest?Never really been skunked that bad
Alternately where did you score the dream trip? Any time I've been to Costa Rica it's been amazing. Never any shortage of waves.
Where is the next stop, what country are you dying to get to? Looking to head over to Bali in January-February
Biggest surf you have photographed in California and where? Just some big days at Black's and Swami's.  Nothing huge.
Morning or Afternoon, if you could only pick one time to shoot which and why? Morning...I love natural color and good light.  Nothing beats a bright blue sky.
Whats your favorite surf town on the California Coast? I love Ventura...seems like theres a ton of good spots around Ventura...and Rincon is always a favorite.
Big Waves, Airs, Barrels, Shredding, or Empty Waves? Which is your favorite to shoot and why?  I'd have to say airs...I love seeing someone pull a huge punt.  I'd rather be the person in the barrel than shooting it ;)
Have you embraced digital & social media as part of your photography business? It's been a huge help...it's basically outlet for getting my work seen by as many people as possible.
If someone wanted to purchase some of your photos for prints, how would they go about it? Shoot me an email contact@kylecannonphotography.com and I will hook you up!
What else do you photograph, in the commercial sense? I do some real estate work and a lot of landscape work.  I've been shooting a lot of videos in the past couple years for various companies.  Surfing is just for fun.
Are there any causes or charities you are actively involved with and would like to let the surf community know about? Join Surfrider!
Final thoughts? Thanks to SurfShot for taking care of the photographers!  Stoked to have my work seen on here!
To See More of Kyle Cannon's Photography Please Visit His Website:
Interview by John Cocozza