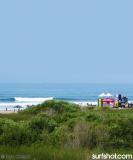 Every year towards the end of June, the California surf scene is privileged enough to host surfing's best and brightest young stars. The sleepy town of San Clemente and its crown jewel, Lowers, become inundated with groms from all over the nation, all awaiting their chance to showcase their skills not only to their peers, but also for the scouting eyes of the surf industry.
This year's NSSA Nationals was graced with consistent and clean two-to-five-foot surf. Now that may seem meager by WCT standards, but it proved to be the perfect size for all of the NSSA competitors, as they took complete advantage of their small, lightweight figures testing the limits of their competitive surfing on each and every wave.
Standouts included Hawaii's John John Florence, Granger Larson and, of course, last year's champ Clay Marzo, who surfs with the speed of a mini Mick Fanning. The Geiselman crew from Florida made their presence known yet again. Evan was surfing with the power and wave knowledge of a WCT vet, and in the process no doubt made his older brother and former NSSA competitor, Eric, proud. Not wanting to be out-surfed in front of their friends and family, Californians Thomas Clarke, Dillon Perillo and Tanner Gudauskas stepped up to the plate showcasing a repertoire of vertical hacks and airs that reminded all onlookers that they are no strangers to the perfection of Lowers. If nothing else, they affirmed that the California contingent was very much alive, kicking, and not backing down from anybody.
In the end it was Malibu's own Dillon Perillo who took the crown of the Open Junior's final, defeating the striking hot Hawaiians John John Florence and Granger Larson. It seemed Perillo felt right at home at Lowers, a wave conducive to a surfer who grew up tending to Malibu's litter of right hand point breaks.
Representing for Hawaii was Kekoa Cazimero who took the premiere title of the event, defeating the likes of Tanner Gudauskas, Casey Brown and Dusty Payne en route to his first ever National Open Men's championship. Conner Coffin from California won the Open Boy's national title, and Hawaii's Koa Smith won the Open Mini Groms title.
The biggest surprise of the entire contest was Saddleback College's win in the collegiate division. And it didn't stop there. Saddleback had three surfers from their team make the finals, beating out powerhouses like UCSD, UCSB, and SDSU. San Clemente High ended up taking home the victory in the Interscholastic High School division as they narrowly defeated Ventura, proving once again that they are the most well rounded high school team in the land. It will be interesting to see what happens next year, as graduating seniors move on and the team is forced to make do with new faces of a younger talent crop.
Not to be outdone by the boys, the girls this year showed that they too deserved the same respect. Hawaiians Carissa Moore and Coco Ho surfed with power and style that would've made any man stop in his tracks and take a moment to appreciate just how far women's surfing has come in such a short time. California's own Hunter sisters were also surfing with the speed and confidence of a young Rochelle Ballard, laying down some nice turns, big floaters, and riding every single one of their waves until there was no power left to push them.
The quality of the surfing on the girl's side this year was a pleasant surprise. It was satisfying to see that collectively their surfing is starting to contend with that of the boys. Carissa Moore ended up completely dominating, winning three more national titles in the Open Women's, Explorer Girls and Interscholastic Middle School divisions. She now has a new record total of nine national titles under her belt, shattering Bobby Martinez's previous mark in the process. As if that wasn't enough, she also won the Kalani Robb Most Inspirational Performance award. Look for big things to come from her in the very near future.
The NSSA nationals are a special event not only because of the high caliber of surfing, but more so because of the friendly beach vibes and family kinship. Actually, who am I kidding, it's like one big high school party, minus the kegs and herb, where everybody knows everybody. Hell, this year's NSSAs came complete with a good old-fashioned brawl – real family oriented fun, huh? All joking aside, the NSSA serves a fundamental purpose in the growth and maturation of tomorrow's surfers. Though the critics of competitive surfing, and conversely the NSSA, contend that competition should not be the face of the sport, it has to be. While surfing represents much more, it is a sport, like soccer, baseball, or basketball, and in the context of competition should be treated as one. The NSSA provides a forum in which surfing can shine – as a sport. Granted, surfing is different from your other amateur or recreational sports, the majority of these kids have sponsorship deals laden with incentives and freebees. You tell me, but I don't know many kids playing rec. soccer or little league that have contracts with apparel, eyewear, and shoe companies. But that doesn't change the nature of the sport. It's competitive, perhaps even more so with the known pressure of sponsors looming in the wings. We all know surfing is bigger than its competitive ranks, but to that end, the NSSA cultivates one aspect, one facet, of surfing – the sport. And it serves its purpose.
Praise is due to all competitors and contest organizers, and congratulations are in order for the victors. It was another great year of heavily contested heats and competitions. Enjoy the down time. See you next year.
* Collegiate and high school events were held at Salt Creek beach in Dana Point