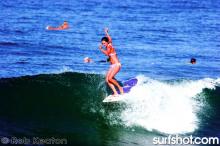 Name: Julie Cox
Hometown: Oceanside
Age: 26
Local spot: Between the Harbor and Pipes with a little Malibu, Leo Carrillo and some Pleasure Point thrown in.
Work/school: UCSC- BA in Environmental Studies. Massage therapy license in 2003. Now, I am developing a quiver of surfboards called the Jule Collection with Jed Noll. Surfboards and art/photography shows are my focus at the moment. I also teach surfing in Mainland, Mexico (www.surflasolas.com) and coach surfing in California. Photography, massage therapy, and surfing for Roxy help pay the monthly bills.
Future: I'm excited about it. Life keeps getting better. I look forward to where the Jule Collection takes me. Photos, surfing, travel. I hope to keep following my heart and passions.
Past: This is a broad question…Well, I grew up in Agoura Hills. During high school and college breaks I worked at the Leo Carrillo Camp Store in Malibu to be near the water and camped and surfed as much as I could. UCSC, traveling, surf contests, and work. Now here I am in Oceanside. There have been struggles along the way of course, but what is life without 'em? Makes us who we are.
Travels: Australia, New Zealand, Cook Islands, Tahiti, France, Costa Rica, Mainland Mexico, Oahu, California, Baja.
September… is the best time of year.
Sponsors: Roxy, Gallaz, and Jed Noll Surfboards.
Favorite local surfers: Linda Benson, Kyla Langen, Terry Prettyman, Matty Lou, Scott, and all the rad longboard ladies of the area.
Wheels: 1996 Ford Ranger truck with extra cab and shell.
I surf kind of like: Hmmm, a bit like Schuyler McFerran possibly.
Thank you: SurfShot Magazine! Chris Grant-JettyGirl, Jed Noll, Georgia and Dennis Dutro, my family, Jer, Trav, Sue and Bruce, MSA-Steve Mhar, Soda, Tim Fields, my possie at Jitters Café, Roxy for backing longboarding. Thank you to surfing. We are so lucky to have it in our lives, eh? See you in the water :)