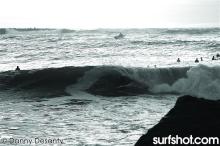 Name: Jonathon Dupont
Age: 19
Hometown: Pacific Beach
Spot: PB, La Jolla
Sponsors: Hurley, Nixon, Etnies, Dakine, Smith
Board(s): 5'9" Rusty
Teacher: I think the first time I went surfing was with my friend, Rory, and his dad. I learned how to surf with them.
Travel: I went to Australia in April for a month, on Queensland. It was fun, but really crowded.
Favorite experience: Going to Fiji was probably my best trip. It's paradise. The waves are perfect. I really like going to Mexico too.
Favorite 'CTer: Joel Parkinson and the Irons'
Style comparison: Not sure
Competition: The last contest I did was probably the P.B. Summer Surf Off. I did pretty bad, but the waves sucked.
What aspect of surfing is most important to you? Who doesn't like to travel, get out of San Diego for a little while and surf new waves. I think free surfing and traveling are the most fun.
"Him and his brother have A+ attitudes, their respect level is great, and they're rippers." - Joe Roper, shaper