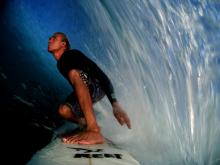 Whats your name? John Maher, my friends call me Johnnyboy and Monster
Whats your age and occupation? 28 years old and work as a lifeguard, Tavarua boatman, and I do construction in Hawaii.  Some say I'm a pro surfer but i don't call myself that anymore.
Tell us about growing up surfing in your hometown? Growing up at WindanSea was awesome, all kinds of reefs to surf, there kind of heavy when your a little kid, and localized.  Blacks gets good too.
When was the last time you surfed and where? Hawaii last night.
When did you start surfing and who got you riding? I was 6, around WindanSea, my pops and uncles took me.
What was your 1st surfboard and do you still have it? It was my Uncles 7 something red singlefin from the 70s, sold it to an Irish friend of mine and hes still got it.
Do you have any sponsors? Rusty Surfboards is like family, and has with me since I was 12.  Matuse is there like family too. Reef, Electric, Nixon, Sector 9 and Destination help support.
Who is your favorite guy & girl surfers on the World Tour? Andy Irons R.I.P.
Do you watch the World Tour & Contests streaming online? No
Several years back you had a pretty big scare at Tavarua, can you tell us about it? Fell off the balcony of a treehouse I was living in on the island. Crushed a vital nerve, broke my back and a bunch of ribs.  Was paralyzed on the left side of my body for months.  Got Life Flight helicopter and specialized Care Air Jet to take me to the spinal ward in Australia where I stayed for a while.
Has the accident affected your surfing or outlook on life? Its part of the reason I surf better now then  when I was partying.  Had a few near death experiences back to back in the same year that changed my perspective on life for sure.  Made me appreciate what I have and can achieve.
What countries have you traveled to? Been all over.  Lucky enough to have traveled since I was a grom.  I spend a couple months during the summers in SD to see family, friends, and do some lifeguarding, but other than that I'm gone, traveling non stop.
What was the craziest, dangerous experience you've had traveling? Maybe a gnarly car accident in New Zealand.  Almost drowning at a few places was scary.  Been robbed by guys with pistols.  Almost drove off the cliff in Baja after a high speed chase.  Hucked on the rocks surfing El Gringo alone was pretty nuts.  Sharks in Fiji get aggressive when spearfishing.  Stuff like that all stand out in their own way of dangerous or crazy or whatever.
What country has the best women you've found in your travels? The Best women are in Fiji because there the coolest and most loving girls in the world, their down for you.  The Most Beautiful are in Europe.
What surf trip is absolutely the best overall in your opinion? Tavarua.
Are there any charities or causes you are active in and want to let people know about? We all know there is so much heavy shit out there.  I really like to donate time and money to the people and communities that I am traveling through, where I feel I can generate the most impact and see it spent.  If we all donate a little bit everyday we can make a huge difference, whether it is a minute of your time teaching someone something beneficial, dropping a dollar in a charity box, or donating half your fortune to a cause like Bill Gates does.  My pops puts kids through school and helps doctors give them medical care in Nepal, he's really cool for me to look up to. ... hows that philanthropy spout.
Any shout outs? Noel, Emery, Andy, Vince, Cam, Case, Sion, Tiko, Kale, Sova, Iliesa, miss you guys.
Interview by John Cocozza
Photos by provided by John Maher, Go Pro Hero, and John Cocozza
Interested in getting featured in our Surfer Profile then send email attn "Surfer Profile" to: cocozza@surfshot.com