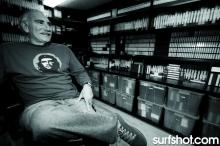 He possesses the largest surf video archive in the world. He also has five Emmy Awards. And, while this is all impressive, it is not what strikes me about Ira Opper. What strikes me about this director/producer is his youthful, creative, and innovative mentality. His bushy white mustache contradicts his young attire, a brown Che Guevara shirt, jeans, and what appear to be skate shoes. We chatted about his life, career, travels, and his reflections on the future of media in his Solana Beach studio, a tidy and organized workspace with rows and rows of film, cameras, computer and television screens lining the walls.
By his attitude, you would never be able to tell that his first surfing footage was shot with regular 8mm film.
Now it has been more than 30 years since Opper embarked upon a career in television, where surfing has often been the subject. In the early 1980's he was the guy who brought what was once called "trash sports" (now called extreme sports) to television, bringing beach volleyball, skateboarding, and surfing to ESPN. He was then commissioned by the president of ESPN in 1987 to put together America's first prime time national weekly series, "Surfer Magazine TV." It later became "Surfer's Journal TV" which aired on the Outdoor Life Network in 1997 to 2001. In 2006, Opper paired with FUEL TV, to produce FiNS, a magazine formatted series that not only documents the progression of the sport of surfing but also aims to finger the beating pulse of the subculture.
"I feel very fortunate to mix my profession and my sport to make it a career," Opper said.
But it hasn't just been in television. Opper has more than two-dozen full-length surf films under his belt. His latest projects with his company, Opper Sports Productions, include the Emmy award winning Kokua, an environmentally themed film based in Hawaii. The film features a concert put on by Jack Johnson to benefit the Kokua (Hawaiian for "help") Hawaii Foundation, a nonprofit that supports environmental education in schools and communities in Hawaii.
He also recently released the film Ultimate Sessions, a film that takes you around the world and through time. It is a compilation of footage from what was identified as the ten most influential sessions from the shortboard revolution to the end of the 20th century. The selected sessions revolve around the idea of the perfect day, the perfect wave, and something that happened that changed the sport in some way from that point on.
With all these countless projects, what keeps him going? For Opper it is about preserving the history and the culture of surfing. "I want to capture these guys while they are still alive," he said. "We sat down with Tom Blake and did an interview, a 90 minute interview when he was 90 years old, holding up every picture, describing everything. We've got other footage like Mark Foo at Waimea bay, talking about paying the ultimate price to ride the ultimate wave."
And he continues on producing and riding the wave of media evolution. He is currently working on a project to format his video archive into a surf channel on the internet. "I want to take the archive and re-purpose it so that everyone can have access in some way," he said. For that though, you'll have to stay tuned.