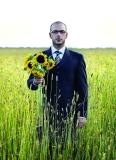 HOMETOWN: Los Angeles
SOUND: Indie Hip-Hop
LINE-UP: Intuition (raps); Equalibrium (beats); B-sides (beats); Murj (DJ)
ALBUMS: Stories About Nothing (Unraveled Records 2007)
WHAT INTUITION IS LISTENING TO: A Tribe Called Quest, DJ Shadow, Common, Nas, Slick Rick, Wu Tang
DOWNLOAD: "Forget Today" and "Bye Bye Baby"
INFO: www.myspace.com/intuition
GETTING TO KNOW THE BAND:
Intuition is actually from North Pole, Alaska but moved to Santa Barbara to study photography.
Intuition has performed with some big name acts: Method Man, Blackalicious, The Living Legends, Pigeon John and The LA Symphony.
Intuition works as a photo-lab tech by day.
Intuition's producer Equilibrium is currently working on an album with artist Kid Called Computer. Check out some of his new tracks at his myspace at www.myspace.com/equilibrium.