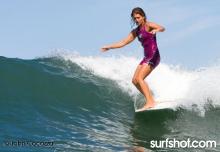 So what was your last surf session. Tell us about it?
When I started this interview my last sesh was friday morning at Pipes. The surf was small and glassy and I paddled out with my friends Leah and Lizzy. We had a full on spaz out for the first half of the session. All of us catching wave after wave, laughing our heads off in between sets. Next thing you know most of the crowd either went in or paddled to another peak. We must have scared them off with our shredding abilities and enthusiasm. I credit the enthusiasm to the home made espresso I had just before paddling out.
Now that its three days later, my real last session was monday at tourmoline.... worst idea ever
Where did you grow up surfing and what is your favorite memory about the area?
I grew up surfing in Pacific Beach. My favorite memories from when I was a kid were always summertime. Before I realized PB was a total zoo during the summer months I loved it because I could spend the entire day either surfing tourmoline and hanging in the parking lot with my older sister and her friends who I looked up to or hanging between my dad's skate shop and crystal pier. As I got older and realized what a scene it was I took full advantage of it. When I was a teenager I would get water balloons and throw them at tourists on the beach from the cliff at the end of Felspar. As cruel as that seems to me now, as a kid I really got a kick out of it. Most of the time though I just spent entire days surfing and hanging on the beach at the bottom of the stairs there.
What are some of your thoughts on surfing in the San Diego as in the waves, locals, and the general scene.
San Diego has a variety of waves, some of which are world class ones. We have point breaks, reefs, and beach breaks. I'm lucky to have grown up when I did and not now. when I was younger it was crowded. Now the crowds can get so out of control that I hesitate to paddle out sometimes. The good thing is that at most of the spots I choose to surf I usually know a few faces in the water so its easier to get waves without pissing people off. Its funny how your friends are stoked to see you get waves as you are them, but randoms you don't know are often times the opposite. In general, the surf scene in San Diego is just like most places in the world. When its good, its crowded. There are friendly locals and there are jerks. When you go to that one spot you will always see the same guy gabbing in the lot, no matter what the surf is like. And most of us who surf center our lives around the ocean.
How old were you when you first starting riding waves? What did you start with Long-boards, Short-boards?
I remember riding waves when I was 6 or 7. I started surfing on my dad's shortboards which were like longboards to me at that age. When I was 9 I started riding a 9'0" almost every time I surfed.
What was your first surfboard and how did you get it?
The first board I had that was mine and was shaped for me was a 6'10" Rusty shortbaord. My dad had it made for me when I was 9. I got to go in the room with Rusty and watch him shape it. I was pretty lucky to have that experience. I still see "the Big R" out at the shores all the time.
Who is currently your shaper? Tell us about what forms the respect you have for them or their shapes?

right now I ride for Donald Takayama. He has the best longboards in his line if you wan to noseride and surf smooth. Donald himself is a bit of a living legend and I'm glad to be riding his boards. I love to drop by his shop in Oceanside to see what he is up to as often as I can. He's always working on some kind of interesting project like his hand shaped redwood boards.
Now I have seen your Dad, Pablo Smith, out in Pacific Beach just styling on the waves? Tell us about your relationship with your pops?

my dad is a classic surfer. he wakes up every morning and the first thing he does is head to the beach or make a call to get the surf report. I think we are very similar in a lot of ways. I'm stoked to have a good relationship with him. I know a lot of people who don't like there parents and some who don't know there parents. I love both of mine and I'm blessed to have been raised the way that I was. Family is one of the most importan