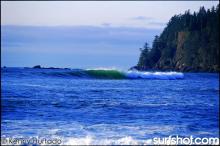 In my garage, buried underneath some worn down wetsuits and a few surfboards I've managed to score at random garage sales over the years, is a box of old surf magazines. They, the surfboards and the mags, don't see much daylight anymore. The surfboards only get wet a couple days a year and the magazines, well, most of the year I forget they're even there. But there are those rare days, usually in the middle of a flat spell, when I go fishing around the garage, peeling bruised boards off of each other, their delamed, sticky skins clapping as they're pulled apart, and I come across that box, and like someone who stumbles onto an old yearbook I can't help but take a minute to stop and look.
The surf magazine might be surfing's most valuable cultural artifact. History is defined, made fact, by the people who tell the story, and nothing so clearly tells our story, surfing's story, like the surf mag. Where we've been, where we are, where we're going – it's all there. Flipping through the pages, staring at the photos, reading the stories, from top to bottom, then to now, the tide of change that has washed over surfing is glaringly apparent.
If you look at surfing in 10-year increments, no stretch has experienced as sharp a change from beginning to end than the window running from the late 90s into the early 21st century. In terms of progress, it's arguably the most significant period in the sport of surfing and its surrounding industry, and perhaps nowhere has been more impacted by that growth than the California surf market.
It's no secret that surfing is transitioning – from fringe subculture to mainstream pop culture. Business is bigger, the surfing talent is younger (and better), and the industry is… greener? However you spin it, there's no denying surfing is moving forward at a pace and with a range that's never been seen. So when our editorial team first batted around ideas for this month's feature that was our focus. We wanted to capture the faces of surfing's constant evolution – its New Influence.
Simply put: The New Influence is a list of the best and brightest from the California surf scene in 2007. Though the list is fundamentally based on the accomplishments each figure or company posted in the '07 year, we wanted to highlight the names instigating change. Leaders in their respective fields already, these athletes, heads of industry, eco and humanitarian front men, artists and photographers are and will continue to be forward thinkers. Realize that this isn't just a snapshot of who is on right now, but a projection of who will next define what surfing means in California.