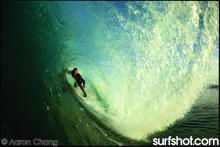 There is nobody around as the boys head out for dawn patrol. The sun is barely rising over the Otay Mesa as they peddle their bikes up First Street (now Seacoast Drive) towards the pier, homemade surfboards underarm. The vacant lots that usually become the meeting place for the local riffraff are now empty. And all is quiet except for the occasional helicopter passing overhead, making exercises from the Naval Outlying field close by. As they reach Date Avenue, they stash their bikes quickly and run out to the middle of the weather-beaten pier—which is now shorter since the storm a few years earlier in 1969 took the end clear off. The boys check the surf, looking towards the north jetties first. Then, looking south, they can barely make out silhouettes creeping up the beach -- Mexicans crossing the border using the beach as their passage. The surf is good by the pier and the older guys aren't out. They throw their boards in the water and jump.
This was growing up in Imperial Beach in the early 1970's.
Imperial Beach was in a world all its own, detached and chaotic. It was a undomesticated frontier for only those who cared to be there. Tucked in the most southwest corner of the United States, Imperial Beach sits secluded and detached from the rest of San Diego. A low rent beach town during the 1970's, it was flypaper for all sorts of individuals. Blue-collar families, bikers, drug-dealers, hippies, Navy enlisted men, Mexican cholos with their low riders, and all other types of misfits all resided under the roof of one community. And with Mexico in plain sight, it was also the first stop for immigrants crossing the border illegally.
Aaron Chang, known internationally for his photography, grew up as a grom in Imperial Beach before heading to the North Shore in 1974 at the age of 17. He looks back on his years in IB fondly, recalling that at the very least everyday was an adventure. "It felt like you were some place wild and out of control… because socially it was," he said.
He recalls what it was like being a kid in a community with such dynamic social factors. Sometimes tensions ran high, like when a riot exploded his senior year of high school. The riot, as he understood, was between the Hell's Angels quarrelling with a local bike gang. "There were Molotov cocktails and some kind of extraordinary law enforcement beyond the local guys," he said. "We ran around during the riot, filming it with super 8 cameras. It was all fun and games for us in that situation because we were spectators and kids more than participants."
There they spent their childhood, in an almost lawless, roughneck, and economically depressed town.
They were the kids of families with little money. Mark and Glenn Gould, who also grew up in Imperial Beach, came from a Navy family. Money was tight for these kids. They had to be creative which meant that they often made their own boards. "We would go up to Mitch's where you could get materials like a blank and some resin, and we would make our own. They were the crapiest boards," Mark Gould said. "After that, we would buy used boards from local shapers that were cheaper. We could never afford to buy a board off a rack."
But what they did have was the surf at their fingertips. So, with makeshift boards, this handful of surfers -- including guys like Aaron Chang, the Gould brothers, Mike Cress, Clayton Colgin, David Parra, and kneeboarder Joe Ellis -- a wide stretch of beach break lay for the taking. It was their liquid playground. They cruised Seacoast Drive starting at the North jetties, checking each spot -- the pier, the end of Descanso Street, the Boca Rios, and eventually hitting the Tijuana Sloughs.
There were moments of surfing glory. On the best days, perfect grinding lefts spun off the pier while picturesque a-frame tubes spat down the beach. These were the days before Surfline, and epic sessions were enjoyed by only a handful of guys that called IB their homebreak.
But Imperial Beach is no kiddy pool. Anyone who has ever surfed IB knows that, though often hit or miss, when IB fires it does so with attitude. It's a bone-crushing, spinal cord snapping beach break with waves that roll in with force that far exceeds their size. What may be a mere three-foot wave can pack a punch smothering you into the sand.
And then there's the Sloughs. At the mouth of the Tijuana River and on the border of Mexico and the United States, the Sloughs are often called a spooky big wave spot. There are three mains breaks: the Inside Peak, the Middle Peak, and the Outer Peak. On huge swells, another spot forms that some call the "Mystic Peak."
But the Sloughs are pretty much undocumented due to the fact that they break about half a mile to a mile out beyond the reach of cameras, unless you have boat or helicopter access. Now virtually unridden because of pollution, it was once one the premier big wave spots on the California coast, visited by such surf icons as Bob Simmons, Buzzy Trent, Pat Curren, and Miki Dora.
And with the challenging IB waves came their riders. For the kids of the late 60's and early 70's, they grew up on the stories guys had to tell. Guys like Allen "Dempsey" Holder, who was regarded as the "Dean of the Sloughs" and a legend in Imperial Beach, on big days dropping in on waves that made for good stories. Dempsey was a big wave rider, not known for fancy moves, but for having sheer guts. He surfed the Sloughs since 1939, mostly by himself. He was also the San Diego County lifeguard lieutenant assigned to Imperial Beach, who often hired Sloughs riders as lifeguards.
Mike "Duck" Richardson, Jeff "Spiderman" Knox and his brother Jim Knox, Coronado lifeguard Jim Voit, Richard Abrams and Jim Barber were among other guys to join Dempsey later at the Sloughs.
"My perspective of surfing as a young man was I was living in the wild west and these were the real cowboys." Chang said. "These guys were the real deal in terms of hippie surfers. They were as longhaired, anti-establishment, counter-culture as you could get. For any young kid growing up that is as about as attractive as you can get."
The epitome of this has to be Danny Bussell, a.k.a. the Hulk. An incredibly talented surfer, Bussell was a rider for Con surfboards in the mid 1960's and had his picture featured on the can of the leading spray-on wax substitute back then. But for the groms, Bussell was the top of the food chain, revered for his surfing ability and for his over-the-top escapades.
Jon Strebler a.k.a. Goose is another longtime local who grew up surfing during the same era, and recalled some of Bussell's antics. One summer day in the early 70's, a big south swell had hit the coast bringing some eight-to-ten-foot set waves, most of which were closing out. "Danny shows up at the pier, after just having fried on acid," Strebler said. "He borrows some guy's piece of crap surfboard, paddles out, and just rips the place up, shooting the pier on these huge closeouts."
Testosterone was what you found if you were to surf the North side of the pier, where most of the IB locals would surf. Localism ran deep and brawls were not uncommon. Some guys from Chula Vista were often heckled, being referred to as "Chulie Hackers" or being from "Chula Juana." The pier was theirs. But they couldn't police the entire stretch of beach break. So when guys didn't want to deal with what came with the pier, they would float down south to another peak.
Even for the loc