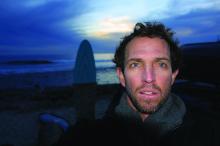 Some people cruise around as if they've got theme music – like John Shaft swaggering to Isaac Hayes' Oscar-winning jam. Ian O'Roarty is one of these people. Only his soundtrack would be Slayer mixed with Dead Kennedys; and Ian would have high def cameras and a sound crew in tow. For O'Roarty, capturing the moment is a way of life. And whether he's filming Kobe Bryant or documenting escapades at the Volcom house – you'll never see him shy away from an opportunity to push the creative envelope.
A native San Diegan, worldwide waterman and filmmaker extraordinaire, O'Roarty's been at the intersection surfing, film and music since day one. And interestingly, the same guy who made throwing stars in metal shop and followed bands like Bad Brains, Black Flag, Descendents and Rocket from the Crypt is now at the corporate forefront – well, sort of.
While at Brooks Institute of Photography, O'Roarty cut his teeth shooting and editing news from the LIVE VAN for ABC – which he says gave him "a quick sense of storytelling." Today, O'Roarty's day job at Sony combines the artistry of his craft with the mischief and mayhem of his youth.
One day O'Roarty can be found running skateboard dollies next to Amare Stoudemire. The next day he'll do a video for David "Big Papi" Ortiz.
Dropping ATVs out of the Baja sky? O'Roarty's been there.
Motion capturing Jet Li and his wire-work maniacs? O'Roarty's done that.
Capturing 50 foot gas-bomb explosions in the desert for Playstation 3's SOCOM and KILLZONE? O'Roarty's got the T-shirt.
To sum up, in the past six months alone, he's worked with three academy award winners and a top specialist from NASA. Who says punk-rocking anarchists can't thrive in the corporate environment?
One of O'Roarty's latest high profile projects is a 30 second CG piece called: "Fish Don't Smoke." It's part of the Surfrider Foundation's "Hold Onto Your Butt" campaign. Motivated by the current (sorry) state of environmental affairs, O'Roarty wanted to devote his creative expertise to protecting Mother Nature.
"I've been involved with Surfrider since '84 but I was somewhat dormant after the Clinton years," O'Roarty said. "However, when the Bush administration started rolling back 30 years of laws that protect our environment and basically declared a war on our natural world – before declaring war on everyone else – I realized my greatest impact to affect change lies in media." Count on O'Roarty's approach making a difference.
The potential impact of O'Roarty's piece for Surfrider is significant. Recently the authorities-that-be indicated O'Roarty's film will be viewed worldwide. "That's the beauty of animation," O'Roarty says as he scours his rolodex for someone who'll translate the Portuguese version.
People like Ian O'Roarty are perpetually at the center of the action; however, he's also adept at making those around him look good.
"We were able to do it [the Surfrider piece] for free in our spare time over the past year with the generous contributions from people like Adam McKay (Director of Talladega Nights and Anchorman), Omens Studios, Marco Gonzalez, esq. (i.e. One of Surfrider's top legal people) and a kick ass score by Brotheryn Studios (i.e. of Jack Johnson's Thicker than Water fame)."
Also crucial to the Surfrider piece was the legendary activist, Dave "Rapscallion" Russell – who recently passed away from a rare form of cancer. "Dave's energy was very infectious," O'Roarty said. "He was responsible for a lot of attention that Surfrider has received including his connection to Eddie Veders' involvement…Dave's spirit of activism lives on like Obi Won Konobi." Like any talented filmmaker, O'Roarty never fails to capture life's finer, more poignant details.
Down the road, bet your bottom dollar that you'll hear more from Ian O'Roarty – and see a lot more of his work. However, if you're out at Big Rock or Blacks and spot a lanky Irishman riding a 6'9" Simmons Fish by Skip, remember one thing – Ian might be a team-playing, family man who now works at a corporate giant; yet, deep down he's still the guy who made throwing stars in metal shop. So before you drop-in, just be sure to listen for that mix of Slayer and Dead Kennedys.