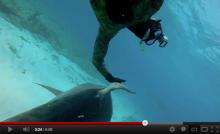 The team at GoPro does it again with the release of their Dive Housing to help capture amazing underwater HD quality video and pictures using their GoPro HD Hero 2.
Order Yours Online at GoPro: http://gopro.com/hd-hero-accessories/dive-housing/
Earlier this year they released the GoPro HD Hero 2, which greatly build on the previous model in terms of technical features, megapixels, photo bursts, and HD video.   Now with the release of their new dive housing they have worked to fix some of the complaints from avid underwater enthusiasts of the distortion blur caused by the standard when you take it underwater.
The Dive Housing's flat glass lens allows for maximum photo and video sharpness underwater in all resolutions, free of vignetting. Waterproof to 197ft / 60m, the dive housing is ideal for diving, snorkeling and any underwater filming scenario.  It is also compatible with all HD HERO cameras, GoPro mounts and accessories.
Check out this amazing video from Italian phenom Roberta Mancino and pro surfer & world renowned free diver Mark Healy as they share an underwater dream.
Special Thanks To -
Patriot3 Maritime for their amazing Jet Boot technology http://www.p3maritime.com/
Stuart's Cove http://www.stuartcove.com/
Andy and Emma Casagrande for their filming talents.
Music Emancipator, "Aries" Buy at: http://emancipator.bandcamp.com