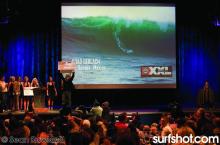 To big wave rider Brad Gerlach, age is just a number. The fact that he turned 40 this year didn't stop him from riding the largest documented wave of the '05-'06 winter in one of the largest winters in West Coast surfing history. On April 14, 2006, Brad Gerlach was crowned winner of the 2006 Billabong XXL Global Big Wave Award for his insane feat of a 68-foot wave at Todos Santos Island. The former number two rated surfer on the ASP world tour and tow partner Mike 'Snips' Parsons encountered the winning wave on December 21, 2005 as a huge winter storm ruined conditions at big wave spots further north.
"When I caught the wave I didn't really know how big it was," Gerlach said. "The swell was still building and it was the last wave of the day, just before it got dark, so I was just hoping to get one more. When I kicked out of the wave everyone just went nuts … you don't know what's behind you when you're on it. I've been surfing Todos Santos for a long time, but that was the most amazing day I've ever seen."
Almost 2,000 surfing VIPs watched Gerlach receive his honors at the Billabong XXL Awards ceremony live at the Grove Theater in Anaheim, California where he received a check for $68,000, $1,000 for each foot of the wave.
"More than anything, it proves that Mike and I are competitive, and we want to ride the biggest waves in the world. I'm 40 and he's 41 – we're not rookies anymore, but we're at our peak," Gerlach said. "Like my mom says: 40 is the new 20. I'm a youngster. I'm just getting started in this big wave stuff."