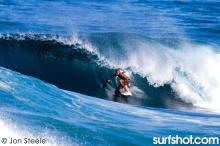 If I had a choice between landing Matt or Ford Archbold in a heat, I'd choose Archbold senior. If I got smoked…hey it was Archy. If I beat him…hell yeah, I just beat Archie. But put me up against the frothing grom, I'm a loser either way. I either beat a 15-year-old, or lose to one. The only thing is Ford doesn't lose. Although he didn't focus much on contests last year, the San Clemente teen, is on the fast track toward pro surfer stardom. He is getting a thorough heavy water dose living on the North Shore this year and given that Ford's best surfing bud is pops, we can expect to see the Archbold legacy continue. After a winter of some solid surf and quality time with dad, Ford will not only be charging but blowing up in the comp scene as well… and neither Archbold will be a better draw.
Sponsors…RVCA, Osiris, Santa Cruz, Jack's, Electric, Creatures, Sambazon.
Battle plan for 2007… hopefully do good in contests.
Breakfast this morning… bagel.
Last barrel... yesterday at Ehukai.
In 20 years...hopefully be on the 'CT.
Tattoos... nope.
Math class... so hard.
NSSA... fun.
WQS... gnarly.
WNBA... don't watch it. I think it's the girls NBA.
Hometown hero... my dad.
Thanks... to my dad, Mike Doheny, and all my sponsors.