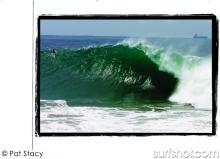 Dreaming about a surf trip to the south to help dispel the So Cal summer doldrums?  Looking for warm water point-breaks, offshore winds and no one else out?  Look no further than Mainland Mexico. Oaxaca, Mexico (That's pronounced wha-ha-ka for you gringos) While many of Mainland's "secret spots" aren't so secret anymore, there are still a few epic waves remaining hidden deep within the Mexican continent that reel off for hundreds of yards, virtually un-ridden. Salina Cruz, located in the Southern state of Oaxaca, is one of those places.
This 200 KM of coastline, located between Huatulco (wha-tool-co) in the north and Salina Cruz in the south, is one of Mainland's last frontiers for surfers looking for the ultimate Mexican surf trip.  This coastline enjoys one of the most consistent swell windows in the world, picking up the same strong swells as Puerto Escondido to the north. Draining, sand-bottom, right hand point breaks, a few right hand jetty breaks, and a recently discovered beach break offering both lefts and rights are all characteristic to Salina Cruz.
South of Huatulco, the coastline turns inward towards the Gulf of Tehuantepec (tee-wan-tay-peck) allowing strong southern hemi swells, which slam Puerto, to wrap in along the many points and headlands that make up this desolate stretch of coastline. There is very little development in the arid stretch of land between Huatulco and Salina Cruz, and the many points and jetties in this area are extremely difficult to find and access without an experienced guide. Enter Salina Cruz Surf Tours Salina Cruz locals Cesar and David Ramirez are the brains and the muscle behind the Salina Cruz Surf Tours operation. With a combined 30+ years of experience surfing this area they are the key to a successful strike along this harsh stretch of coastline.  Access in this area is difficult and sketchy, and with the variability of the wind, swell and tide conditions, an experienced guide is essential.
What to Expect Salina Cruz is a blue-collar port city, with the majority of its income derived from oil refining. Because of this, there is virtually no tourism infrastructure whatsoever in Salina Cruz.  This makes for a unique opportunity for the adventurous surfer, as large Mexican cities located near good surf have mostly been Americanized beyond recognition.  This trip offers epic, uncrowded surf in a traditional Mexican city.  From late nights at the local discoteque to home cooked huevos rancheros to the surf, Salina Cruz has it. Salina Cruz Surf Tours focuses on the 12 to 15 different waves in this region, located within 15 minutes to two hours from downtown Salina Cruz.  This is a hardcore surf tour for the surfer who is not afraid to get their hands dirty to score uncrowded, world-class perfection at the many breaks in this area.  The surf in this region varies from intermediate to expert.  Most of the waves in this region are fast, powerful and hollow and favor shortboards, but there are a few long, point breaks ideal for progressive longboarding. This area has a very strong N to NE wind condition caused by a gradient between the Gulf of Mexico to the North and the Pacific Ocean to the South.  During our winter (October-April), these winds can blow in excess of 30-40 knots, blowing out the surf in this region.  However, during the rainy season (May-September), wind velocities generally diminish to between 10-20 knots, with variable direction.  Each of the point breaks, jetty breaks and beach breaks in the Salina Cruz area has a different swell and wind window, enabling surfers to score on almost any wind/swell combo. Logistics Despite its off-the-beaten-path location, Salina Cruz is relatively easy to get to.  Mexicana airlines offers flights from many major airports around the U.S., including Los Angeles (LAX), San Francisco (SFO), Miami (MIA), New York (JFK), and even Tijuana (TIJ).  Flights generally cost between $550-$650, and all connect to Huatulco via Mexico City. Salina Cruz Surf Tours offers packages beginning at six days and five nights which include round-trip airport transportation, accommodation at one of two well appointed Haciendas located in the heart of Salina Cruz, three home-cooked Mexican meals each day, and of course 4x4 surf tours all day every day to the many isolated waves in this region.  A maximum of 12 surfers is allowed at any time, minimizing the impact of visiting surfers on the local breaks.  Salina Cruz Surf Tours utilizes three rugged 4x4s and also has access to a panga should the conditions dictate boat access.
Contact: Wavehunters Surf Travel//WWW.WAVEHUNTERS.COM/SALINA/SALINA.ASP//Agent: Robert Fletcher//Ph: 760.994.4860//Email: ROB@WAVEHUNTERS.COM or WAVEHUNTERS@WAVEHUNTERS.COM