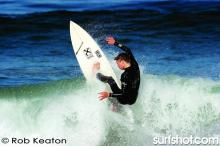 Name: Evan Luth
Age: 18
Hometown: Solana Beach
Spot: Sea Side
Sponsors: Xanadu Surfboards, Hansens/Boardroom, Sanuk, Ocean Earth, Bubblegum Wax, and the Grom Project.
Board(s): 6'1"
Teacher: My dad first put me on a board, and from then on out it became the center of my life passions and source of inspiration. Growing up in an area where there's so much talent has helped me to progress and be influenced.
Travel: Yeah, I just got back from an awesome tour of Europe. Awesome surf, amazing girls, and so many life-changing experiences.
Favorite experience: Indonesia last summer. I had the pleasure of spending time getting to know the Indonesian culture on less developed islands like Lombok and Nusa Lembogen, while scoring some insane surf. Bali, of course, was a trip of it's own and full of unbelievable fantasy-like surf breaks. Super fun nightlife too.
Favorite 'Cter: Kelly is the undeniable king.
Style comparison: That's a sketchy question. How do you not sound arrogant? Maybe David Rastavich or Parko?
Competition: I got fifth in the semis for Explorer Men's, and second overall in ISF Men's. But other than that I've been loving the off-season and traveling for pleasure… so not too many contests.
What aspect of surfing is most important to you? The spirit of surfing. It is one of the undeniable forces in this world whose natural form captivates those who feel it and teaches us great things about the way we can live life in and out of the water; it has so much to give.
"Luth understands the bigger picture, one that many will never experience. From this many doors will open. It's up to him to create his desired reality." - Ian Harris, pro surfer/video producer