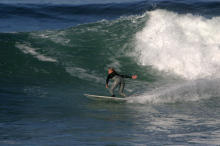 Name:
Erin Rietow
Age:
23
Zodiac sign:
Leo
Where are you from?:
I'm from Waimea on the Big Island.
Favorite break
: Banyans, Blacks Beach
Sponsors:
I ride for Monument Clothing, Burke Surfboards, Liquid Foundation and BodyGlove. What about these companies' styles do you like?: They're all really different. I like the people that run the companies, they're doing good things for the industry.
Who taught you how to surf?:
My best friend from the Big Island and I learned together. Inspiration in the surfing world: That's hard, 'cause there are so many people. I would have to say my dad. Ideas about women in the male-dominated sport: Women are up and coming and we all have a lot of potential. Getting out in the water every day is important. It's about pushing your limits on big waves and charging. Ideal surfing vacation: My ideal "vacation" would be to move out of the US to Peru or Indonesia, buy a canoe and live there forever, indefinitely.
Advice to fellow surfers:
Live aloha to each other. We're all out there, be nice.