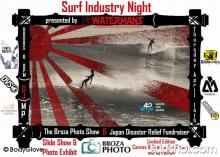 If you are in Southern California this week, please join us at Watermans, Hermosa Beach on Thursday, April 14th at 8PM for Broza Photo Art Raffle to benefit the Japan Disaster Relief Effort.
A $15 donation will get you entry, a raffle ticket and a drink ticket. A portion of the proceeds at the door will be donated to benefit the Japan Disaster Relief Effort.
Brent Broza will be showing some framed canvas & bamboo art pieces along with a slideshow throughout the evening. Later in the evening, all of the art pieces will be raffled off. That means anyone with an entry raffle ticket has a chance to win a piece. You must be present to win! Additional raffle tickets are $5. There will be cool giveaways from Body Glove, DVS, Matix & Sector 9 too! Body Glove will be at the Body Glove table selling the Hand in Hand For Japan T-shirts with all proceeds going to the relief effort.
Hope to see you there to support a great cause, a great country and amazing people.