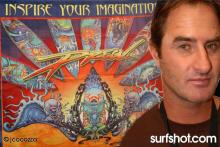 When is the last time you surfed? A couple days ago at Lowers in San Clemente.  Two sessions, Cottons in the morning, Lowers in the afternoon.
When did you start surfing and who got you started? My older brother Tommy put me on a board when I was about 4 or 5.  It was an instant addiction!
What was your first board and do you still have it? When I was a kid, there were only a few small boards in my hometown of Myrtle Beach, South Carolina.  The smallest board in town was a 5'8" Bing – it was like the town bicycle – everyone in Myrtle Beach rode it at one point.  We all got our turn.
My first real surfboard that I owned was a used David Nuhuiwa 5'8" – it was faded red and beat up so I taped it off and painted checkerboards and lightning bolts on it.  It was the first surfboard I ever painted.  I was about 9 or 10 at that time.
When did you start painting? I've always drawn and painted, as far back as I can remember.  I used to draw on the walls in my bedroom.  My mom was cool; she didn't care.
Who have been some of your major art influences? My father influenced me early on – he was always drawing and doodling, and my sister Julie was an art major.  As I got older, I was inspired by artists I saw in surfing magazines like Bill Ogden, Jim Phillips, Jim Evans and Rick Griffin.  I remember, back in the 80's, when all of the Town and Country art was wild and crazy.  I thought it was cool.
What was the 1st piece of art you sold and to whom? It was probably Mark Allison at the local surf shop. He hired me to draw polar bears in wetsuits for a newspaper ad!  I was a teenager then, about 14 or 15.
Are you available to hire for custom artwork on surfboards? Yes, I still paint on surfboards.
Who are some of your favorite pro surfers to watch and follow? I love watching Slater surf – he's like a machine.  Kolohe Andino is a cool kid and I've watched him grow up.   He always looks like he's having fun when he's out there surfing!
What other current artists do you follow or admire their work? Chris Lundy is one of my favorites.  He paints the energy of the ocean, he has his own style and his art doesn't look like anybody else's.
What was the craziest, dangerous experience you've had traveling? I was robbed in Peru and had everything taken from me.  It took me two weeks just to get out of the country and back to the U.S.  Peru is a bad place to be stuck without money and a passport!
What was your favorite art piece so far and why? My favorite art piece is PURE JOY, because it captures the pure joy of surfing, the feeling of what it's like when you finally "get it" when you ride your first wave.
The ironic thing is that PURE JOY was painted in 1998, and the character looks exactly like my son, who was born years later!
Do you create art with an underlying message in your work? Sometimes, but at the end of the day, I just love to surf and be with my family.  Most of my art reflects that.
Where can people find your artwork?  Do you hang your work in any galleries? My original work is available in my own studio in San Clemente, on my website and in a few scattered galleries.
Do you have a website where people can view your artwork or order online? www.drewbrophy.com
What's your local break? Lowers
What type of boards do you prefer to ride? M.R. Twin fins and Lopez Guns
What do you like & dislike about the Digital Age in terms of social connectivity, promoting your work, and doing business? The Digital Age has it's advantages.  Today any artist can reach their fans and sell their art all over the world.  The downside:  Everything moves too fast – everyone's so busy getting to the next thing that they don't enjoy the moment.  In business it's hard because it takes time for good ideas to sink in, and everyone's in such a time crunch that it's rushed.  I like to take the time to do things very well, but when it's "rush rush rush" quality suffers.
Are you involved in any charities or causes you would like people to know about? Schools cut art out and people trivialize it, but artists are the people that come up with new ideas through abstract thinking.    I support the idea that art is a crucial component of the world, and that kids' creativity should be encouraged.
Final thoughts? Life is Good!
FOLLOW DREW BROPHY ON FACEBOOK - http://www.facebook.com/pages/Drew-Brophy-Artist/170041804146?ref=ts&sk=wall
TO SEE MORE OF DREW'S ART OR HIRE HIM TO DESIGN YOUR NEXT BOARD PLEASE VISIT DREW BROPHY WEBSITE
MANY THANKS TO DREW & MARIA BROPHY FROM THE SURFSHOT.COM CREW
INTERVIEW & PORTRAIT BY: JOHN COCOZZA PHOTOGRAPHY