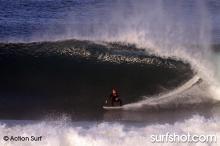 Name? Douglas (Doug) Aguillard- Action Surf Photogrpahy
Canon and Nikon? Nikon
First Spot in California you shot surfing? Imperial Beach
Land, Water, or Both? Only Land so far.
What makes photographing surfing your passion? I use to surf when I was young, but due to a back injury while in the Marines, I now surf through the lens of those who I photograph.
Which spots have you seen the heaviest wipe-outs while shooting? The La Jolla Reefs, especially Big Rock.
Whats your favorite rig to shoot with? I use the Nikon D300 and D200, with the Nikon 300mm f2.8 and the Nikon 1.7X Teleconverter. It's a great setup for using it at long-distance, and then pulling off the 1.7X for any close in work. With the D300, I can get 8 frames per second, and the 300mm gets some images when it's low light, or just a beautiful sunny day. I do plan on upgrading to the Nikon D3 or whatever comes next.
Where have you traveled to doing surf photography? It's a little embaressing, but I usually only do the County, with an occasional trip to the OC.
Where did you get skunked the hardest? Most fo the time, it's Sunset Cliffs.
Where is the next stop, what country are you dying to get to? Mexico, and hopefully the South Pacific.
Biggest surf you have photographed in California and where? La Jolla Cove in 2009, it was a beautiful winter Saturday morning, and the Cove was doing 15-20 feet.
Morning or Afternoon, if you could only pick one time to shoot which and why? They both appeal to me. The morning light is bright and crisp, and brings an ice blue color into the waves. The late afternoon light is soft and brings out the emerald greens of the Pacific.
Whats your favorite surf town on the California Coast? La Jolla, La Jolla, La Jolla
Big Waves, Airs, Barrels, Shredding, or Empty Waves? Which is your favorite to shoot and why?  Airs and Barrels, it takes talents to do both well. I get stoked everytime, someone is getting shacked or getting crazy airs. The groms and the modern boards of today let people pull off manuvers, I couldn't do as a kid.
Have you embraced digital & social media as part of your photography business? Besides my website, I use Facebook, so people can keep up with when and where I will be if they want to know and get some pics.
If someone wanted to purchase some of your photos for prints, how would they go about it? I sell from my website www.actionsurf.net, I use to sell prints, merchandise, CD's/DVD's, and digital downloads., but as of 2011, I now only sell CD's/DVD's and Digital downloads.
What else do you photograph, in the commercial sense? I have been shooting the motorcyclist who ride sportbikes up in the backcountry roads racing in the canyons and mountains.
Are there any causes or charities you are actively involved with and would like to let the surf community know about? I send 10% of my surf photography profits to the Sea Sheperd Conservation Society so that I can help in the stopping of the killing of whales world-wide.
Final thoughts? I want to thank some of my fellow surf photographers for thier inspiration,encouragement, and friendship such as Lance Smith, John Cocozzo, Mike Delanzo, and Mike Sangiolo. To my surfer friends and customers! Thank you for becoming like family to me and befriending me. Thank you for sharing your passion and love of the ocean with me, and allowing me to capture you in a photograph. Your all the best!
Interview by : John Cocozza
WANT TO SEE MORE OF DOUG AGUILLARD'S SURF PHOTOGRAPHY?
CHECK OUT - HTTP://WWW.ACTIONSURF.NET