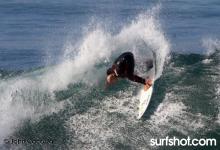 Born in Atlantic City, New Jersey, the "Dazzler" grew up surfing the waves off the Margate Pier. At age 14 he focused completely on surfing and went professional at the age of 21. In 1996, Dean qualified for the World Championship Tour. For the next five years he traveled the globe mastering waves.
Dean Randazzo, New Jersey's most successful professional surfer, was stricken with cancer in 2001. He was diagnosed with Hodgkins Lymphoma and has been battling the disease ever since. His life was profoundly changed by the diagnosis and he has faced many obstacles in undergoing his treatment. He is not alone.
With the help of Dean's friends and family, we created the Dean Randazzo Cancer Foundation in 2001.

http://deanrandazzocancerfoundation.org/

On March 19, 2009 Hyperflex Wetsuits signed pro surfer and NJ native Dean Randazzo to the Hyperflex Surf Team. Dean will be featured in the Hyperflex new national ad campaign this year in Surfer and Surfing. Dean brings a wealth of experience to the Hyperflex team.
His reputation, both in and out of the surf, is undeniable. He is well known as a cancer survivor, a fighter, a tremendous surfer and competitor, and above all, a genuinely good human being. He is healthy and is getting ready to compete this year.
He is an inspiration to us all and is a perfect fit for our company and our 2009/2010 marketing campaign. In addition to riding for Hyperflex, Dean will be active in R&D for all future wetsuits. Looking ahead, a Dean Randazzo designed Pro Model suit is planned for Spring 2010.