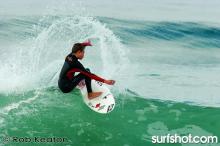 I vividly remember that sensation of relief upon completing the academic year and jumping off the cliff of books, homework, and obligation into a sea of freedom. But two and a half months of summer flew by, and before I could believe it, it was Labor Day once again and I was forced back into the scholastic cycle. I thought about my last wave of summer like it was the last wave of my life, thinking that it might have some repercussive effects on the year if ridden poorly.
Now I reflect on those days and I realize how pathetic I was. Sure it was the last wave of summer, but I'd be out in the water the next morning for surf P.E. and then back out for an afternoon surf soon after. I could hang out with all of my friends again, check out girls, and throw apple cores at the jocks.
I saw my first back-to-school commercial the other day and it reminded me of the depressing feeling I used to get when watching those. I was surfing Seaside the other day and ran into San Dieguito ripper David Suhadolnik. I asked him how he felt about the whole back-to-school thing. Here is what he had to say:
"School... well us students have to start school again pretty soon. I think we start around August 28th or shortly thereafter. School is fun for the first few days, maybe the first week or two. After that we'll be loaded up with books, calculators and the one thing we all hate… homework! But the incoming freshman ladies are always something to look forward to. And this year I'm leaving Torrey Pines High School to return to San Dieguito Academy where I belong. My older brother Zack just graduated from there this past year, and I'll be joining Nick, my twin, this year. All the guys at SDA are super fun to surf with anyways. They all rip and push each other and myself, in and out of the line up.
"Hopefully our team pulls through this year and wins the NSL High School Cup. That format is super fun and makes surfing enjoyable as a team. Instead of surfing individually in a heat your entire team goes out and catches waves and works together. The top wave of each surfer is combined into the total score. SDA has always had a solid team and with surfers like Eric Snortum, Ryan Burch, Nick, Brad Haggland, Nick Olsen, and Nico Osterman. I'm sure our team has a good chance this year to take that title. So school this year should be fun with the surf team, new girls and a good group of buddies to mess around with."
David has a pretty positive attitude towards the one thing that tore me all up inside every September. Now I realize that waking up Monday morning to go to school is far better than heading to the office. There's no surf team at the office, but the back-to-school commercials still bum me out.