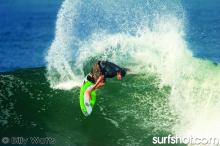 Name: Dan House
Hometown: Ocean Beach
Hometown quiver: Plus One Surfboards
Hometown grind: Nicos
Regular or goofy: goofball
In 2006, the Padres will ... suck like they always do.
Favorite loc dog: Bobby Ducharme
I hate it when ... kooks take over Avalanche.
I love it when ... Joe Virgilio shapes me a surfboard.
Sponsors: Plus One Surfboards, Jet Pilot, Ocean Earth, Arnette, OB Surf Shop
Travels: Mainland Mex. and Hawaii
Gym or bar: I don't go to either
Myspace pro. or myspace no: myspace kook
In 10 years … I will be riding a 7'4" x 26", ¼" x 4 ½" surfboard at the cliffs, dropping in on groms.
Thank you: Dad, Mom, Julie, Joe, George, Brent, Layne, and Rodger.