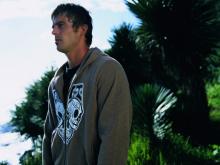 Cult Surf Industries is making a mad dash to be the best, one stop surf company in the world. And I think they're on the right track. Cult is making a name for itself by offering anything and everything you would need when surfing, seriously! In addition to top quality clothing, Cult manufactures surfboards, wetsuits, traction pads, board bags, wallets, sunglasses, leashes, and jewelry. At my buddy's yesterday, I even saw a Cult cool cup to keep your beer or soda cold. According to owner Doug Spong, "Cult is always going to be on the cutting edge of all possible markets, we just want to have it all!"
After getting its start and laying down big roots in Australia, Cult moved worldwide to Argentina, Indo, Canada, Europe, and New Zealand.
Cult recently made its move to the states in a big way. When they landed in San Diego they picked up local ripper Josh Vanderwaall as a rider and rep for their new line.
Vanderwaall claims the response from the retailers has been fantastic, "It's been an easy sell every time I go to the shops. They're all so receptive!"
When this article comes out I hope we're still all trunking it, but if we're not you could wear the styles "Darkness Falls" or "Amped Out" in the nearest swimming pool. If you're looking to get into some shorts go for the "Seth" or "Senator." For t-shirts if you're looking for a lot going on I recommend the "Apache," but if you're more into the mellow vibe then the "Miagi" should suit you just fine. Now, I'm no expert, but for the ladies I noticed the "Ava" and the "Major Tom" are good looking bathing suits.
To find Cult gear in S.D., go to one of these fine retailers: Sun Diego, Beach Bungalow, Endless Summer, Atomic, Action Beach, K-5, South Coast, Surf Diva, Progression Surf, Razzmatazz, Moto World, and Emerald City.