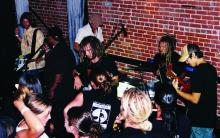 What is burnt? Whenever I think of being burnt, I think useless and tired on the couch after a crazy night. So, name for a reggae band? Sure, why not. Reggae, with its range of styles, is synonymous with the Southern Californian surf lifestyle. But for this band it seems to represent a struggling existence in a complex, chaotic and often painful world. "[Burnt] refers to the grind of our lives, the scar tissue and the scrapes…all that shit that leaves a change in your skin tone," Chris Baca, one of the founders of the production company Stems and Seeds who has made Burnt a reality, said.
Through this struggle, a message arises. Burnt's music calls to the American youth to dispose of the status quo and establish some alternative, a way of life more natural and righteous. Songs are politically charged, confronting social and environmental issues head on. The current administration is the inspiration of many lyrics such as, "Hey Mr. President, a message from the youth today: Would you stop with your bullshit games. We need some equality."
The band itself is a tribe of like-minded musicians. It has been a huge collaborative project of some of the best local and non-local artists, working with members of the Chula Vista Chicano band B-Side Players, the Ska band The Debonaires, and more. And the collaboration is obvious. Some songs start out smooth with a reggae bob then burst into the fast and wild punk flashes. Other songs drop hip-hop beats featuring guest rappers and voice sampling.
Just back from bringin' down the hoose on their Canadian tour, I sat down and tried to pick burnt minds.
With such an eclectic sound, how would you guys describe your music?
Hip-hop, roots, rock and soul with a smear of punk.
Where does most of the producing go down?
Now, we have a studio out by Coachella. We used to produce in a studio in North Park where some guys actually lived…one sink, one toilet, no shower. Joe, Danny, and Rob lived there, along with the rats.
If you were crossing the desert, what would your oasis look like?
Our oasis is a sustainable place where people could hang out and have good times. It would be a place of natural beauty because that's what an oasis is. There would be big sound systems, dancing, natural food, music and tents for people to camp out. Oh, don't forget the Brazilian beach volleyball.
What is your music best served with?
Tequila, Spodiodi, Vodka and Sunny Delight with Flaming Hot Cheetos…
London or NY?
Tijuana
Check out Burnt's latest CD entitled Tortillas. It is available, along with information on upcoming shows, at www.myspace.com/burntstemsandseeds.