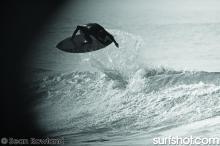 Name: Bryce "Smithers" Frees
Hometown: Solana Beach and Cardiff
Age: 23
Job: Professional amateur surfer, valet, computer geek
Sponsors: SRH, Ryan Judson, mom and grandma. Oh yeah, and Molly from Java Depot.
I surf because... My mom makes me and because my Nintendo broke when I was 10.
Quiver: I'm poor. I'll ride anything...even your ugly aunt (minus some of the chicks Midnight rides).
Travels: Tahiti, Mainland Mex, Australia, Peru, Costa Rica, Hawaii, Samoa, Narnia.
Odd fact to have in common with Grayson Adams: We both lost our virginity at the age of...too old!
Crew: Just Garret (because Muchesney forgot about him).
Heroes: Jesus Christ and duh...Ghandi. And Satan is pretty cool. Evan Knight, Oly Norris, Josh Tudor, Devon Howard, Al Gore, Eric Clapton, and all my friends.
Zeros: Home Owners' Associations and other miscellaneous private property owners.
Fav food: Grease
Fav drink: Whole milk with Vitamin D
Beer or red bull and vodka: Depends whose belly button I'm drinking it out of.
Home spot: Couch?
Home away from home: Suckouts
Shout outs: This MySpace was edited using Darlene Conelly.