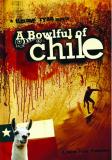 From the maker of Fistful of Barrels comes a video covering the Rip Curl Pro Search contest in Arica, Chile.
Surfing Quality – 5 stars – The best surfers in the world. Period.
Style – 4 stars – After trying to watch live coverage and failing miserably, I was hoping this video would provide more commentary about the country, town, the search for the wave and the details of the battles during heats. Nope. Just heaving, slab barrel after heaving, slab barrel. A couple interviews and little, artistic lifestyle video and that's it. With waves like this there is not much needed, it was just a little monotonous.
Waves – 5 stars – The wave in Arica, Chile is a scary, slab that shifts and warbles to provide unreal barrels and heavy wipeouts. The wave breaks similar to Big Rock but has the power of Pipe. Little more can be done on this wave than pull in and hold on.
Music – 4 stars – Not typical but enjoyable. I like the fact that I have a few new bands to research.