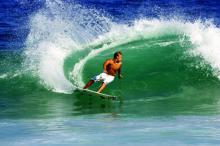 Santa Cruz's Eastside is proud to present its newest favorite son -- Austin Smith-Ford. He's one year out of high school and taking his First Peak Pleasure Point skills to the world stage. Smith-Ford's travel experience is already extensive, his face is popping up in the media, and he is ready to lead the pack of SC's surfing youth. He's got a rounded surfing package of competitive savvy and photo allure that sponsors love. You'll see plenty more of this kid ripping in the comps, boosting in the mags and dominating Eastside lineups.
Age: 19
School: Graduated from Soquel High in '06
Sponsors: Rip Curl, Santa Cruz surfboards, Dragon, Santa Cruz Surf Shop
'07 surfing highlights: cover of Mundo Rad, discovering new waves in the Faroe Islands and lots of fun trips.
Plan for '08: Do well in the pro-junior series, continue building a 'QS seed, and get on some sick trips.
Travels: This year I went, in this order, to Florida, Puerto Rico, Faroe islands, Florida again, Mainland Mex, Cabo, Virginia, New Jersey, then northern Baja twice.
Wheels: I really gotta get a car. I want a Toyota Tacoma SR5 extended cab. Soon!!
Underrated: Kieren Horn
Overrated: I don't want to get myself into trouble on this one... but there are quite a few names that come to mind.
In 20 years: I will still be surfing for sure, hopefully still professionally.
10 years ago: I was all about BMXing... there was a sick dirt park right by my house that I was always at, and I skated a lot too.
Inspirations: Kelly Slater, Adam Replogle, and my mom
Local spot: First Peak Pleasure Point... ESSC for life!