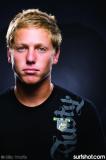 Name: Andrew Walker
Age: 20
Hometown: Del Mar
Spot: Del Mar
Sponsors: Rusty, Spy Optics, Osiris, and Freak Traction
Board(s): 5'10'' Rusty EPS
Teacher: My dad.
Travel: No, I wish. I need to start traveling.
Favorite experience: Probably surfing Pakalas on Kauai a couple years ago. That left's so good.
Favorite 'CTer: Kelly
Style comparison: Dingo
Competition: Not lately. I guess the last one was the U.S. championship. I got 9th.
What aspect of surfing is most important to you? Probably free surfing, because that's where you progress the most. It should be travel though. I just don't have a travel budget.
"Andrew is a super talented individual in and out of the water. His surfing is getting faster and more fluid … new Rusty's will always help. It's time for him to get into some WQS events and see how it goes." - Bryan House, Osiris Shoes